Contact:
Sarah Ray
802-443-5794
sray@middlebury.edu
Posted: January 28, 2002
MIDDLEBURY,
VT -Denis
Halliday, the former United
Nations assistant secretary-general and humanitarian coordinator in
Iraq, will give a lecture titled "Finishing Unfinished Business?
Iraq, a Decade After Desert Storm" on Friday, Feb. 15, at 4:30
p.m. at Middlebury College. Halliday will address the consequences
of present policies toward Iraq, and suggest alternative strategies.
The lecture is free and open to the public, and will take place in
Dana Auditorium in Sunderland Language Center on College Street (Route
125).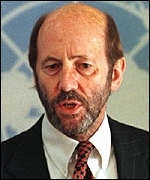 A
career U.N. diplomat for 34 years, Halliday was appointed by Secretary-General
Kofi Annan to the post of humanitarian coordinator for Iraq in 1997. After
one year of overseeing the "oil for food" program, he resigned
in protest of the suffering he witnessed as a result of the sanctions.
He subsequently spoke out against what he calls a devastating policy at
congressional hearings, to national and international media, and at speaking
events around the world.
At
the time of his resignation in 1998, he discussed the sanctions policy,
telling Reuters news agency, "It probably strengthens the leadership
and further weakens the people of the country." In an interview with
the BBC on Sept. 30, 1998, he cited a number of misfortunes the Iraqis
endured as a result of sanctions, including: breakdown of water supply
and sanitation, inadequate diet, poor healthcare, increase in number of
divorces, higher death rate among children, escalating crime, and isolation
from the international community. He also noted that the development of
more fundamentalist Islamic thinking similar to that of the Taliban movement
was a real possibility in Iraq.
Halliday
has many years of experience working on U.N. economic development and
humanitarian assistance programs. In 1987, he was appointed chef de cabinet
of the organization's development program, and later served as the assistant
secretary-general for human resources management.
For
more information, contact Charlotte Tate at the Center for International
Affairs at Middlebury College at 802-443-5795.