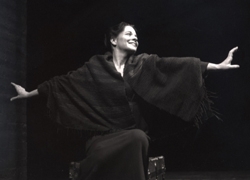 MIDDLEBURY, VT - Actress and playwright Ann Timmons will perform a one-woman show titled "Off the Wall: The Life and Works of Charlotte Perkins Gilman" on Wednesday, April 24, at 7 p.m. A discussion with Timmons will follow the performance. The event will take place in the Middlebury College McCullough Student Center on Old Chapel Road off South Main Street (Route 30), and is free and open to the public.
Like her great aunt and uncle before her, Harriet Beecher Stowe and Henry Ward Beecher, Charlotte Perkins Gilman (1860-1935) was also concerned with the complacency that she saw in a corrupt and retrogressive society. An avowed Socialist, she refused to label herself a feminist, preferring the role of a humanist crusader in a "masculinist" world. Gilman's diverse and prodigious canon, from the dramatic short story "TheYellow Wallpaper" (1891) to her prescient philosophical treatises "Women and Economics" (1898), "The Home: Its Work and Influence" (1902), and the utopian novel "Herland" (1916), relentlessly questioned the values of the status quo.
Timmons has performed in solo theatre works since 1979. Prior to a successful off- Broadway run of "Off the Wall" in 1992, she toured to Lincoln Center and the Edinburgh Festival Fringe. Timmons has also performed extensively in regional theatre in productions ranging from the American premiere of "The Life and Adventures of Nicholas Nickleby" at the Great Lakes Festival Theatre to "Six Degrees of Separation" at The Rep Stage in Columbia, Md. On film she has worked with Oliver Stone in "Wall Street," Rob Reiner in "When Harry Met Sally," and Woody Allen in "Alice." Her television credits include "Saturday Night Live," "Another World," and "Law and Order."
In addition to "Off the Wall," Timmons has written a number of plays for solo and duo performance, including "Shaw's Women" and "Beyond Shadowlands."
A graduate of Wellesley College, Timmons also trained at London's Central School of Speech and Drama, and holds a master's in fine arts from the University of Illinois. As a visiting artist, she has led a variety of acting, voice and performance workshops, and has taught theatre courses at the American University, the University of the District of Columbia, the Bethesda Academy of Performing Arts, and public and private schools throughout northern Virginia.
For more information, contact Deborah Grant, director of Middlebury College's Chellis House, at 802-443-5937.