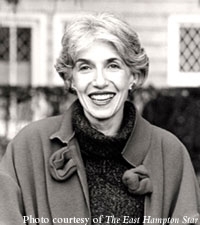 MIDDLEBURY,
Vt. - Dava Sobel, a former New York Times science reporter and author
of the best-selling book "Longitude," will deliver the commencement
address at Middlebury College's graduation ceremony on Sunday, May 26.
She will receive an honorary Doctor of Letters degree. The College will
award honorary degrees to four other distinguished individuals as well."Longitude:
The True Story of a Lone Genius Who Solved the Greatest Scientific Problem
of His Time" was first published in 1995 and is now in its 23rd hardcover
printing. Translated into two-dozen foreign languages, the book became
a national and international best seller. Book News called it an "engrossing
story of John Harrison's (1693-1776) 40-year obsession with 'the longitude
problem' which resulted in what is known today as the chronometer, a tool
that finally made accurate ocean navigation possible."
The book
won several literary prizes, including the Harold D. Vursell Memorial
Award from the American Academy of Arts and Letters. Together with William
J.H. Andrewes, who introduced Sobel to the subject of "Longitude,"
she co-authored "The Illustrated Longitude," published in 1998.
According
to Middlebury College President John M. McCardell Jr., Sobel's work has
encouraged an awareness of science and technology amongst a wide audience.
McCardell said, "We are honored to recognize her talent for demystifying
what can be complex scientific subjects and making them accessible to
the general public."
Sobel has
visited the Middlebury campus on one previous occasion in 1997 when she
gave a lecture and participated in a philosophy class.
Sobel is also the author
of "Galileo's Daughter," her most recent book. Published in
1999, it is based on 124 surviving letters Galileo received from his eldest
child, which Sobel translated from the original Italian. "Galileo's
Daughter" won several awards, including the 1999 Los Angeles Times
Book Prize for science and technology. The paperback edition was the number-one
New York Times nonfiction best seller for five consecutive weeks.
In her 30 years as a science
journalist, she has written for many magazines, including Audubon, Discover,
Life and The New Yorker; served as a contributing editor to Harvard Magazine
and Omni; and co-authored six books, including "Is Anyone Out There?"
with astronomer Frank Drake.
Sobel has lectured widely
and made a number of appearances on national broadcast media. A frequent
guest on National Public Radio shows such as "All Things Considered,"
she has also appeared on NBC's "Today" and ABC's "World
News Tonight."
Sobel, a 1964 graduate of
the Bronx High School of Science, attended Antioch College and the City
College of New York before receiving her bachelor of arts degree from
the State University of New York at Binghamton. She lives in East Hampton,
N.Y.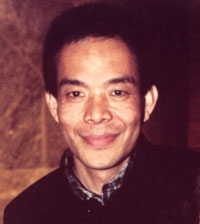 The
College also will present honorary degrees to four other distinguished
individuals, including, Ngawang Choephel, who will receive a Doctor of
Arts degree. In 1993 and 1994, Choephel, a Tibetan refugee, was a visiting
scholar at Middlebury, where he studied ethnomusicology through the Fulbright
program. He subsequently traveled to Tibet, where he was making a documentary
about the region's traditional music and dance when he was taken into
custody in September 1995 by Chinese authorities. Choephel was later convicted
of espionage and sentenced to 18 years in prison. After serving more than
six years of his sentence, he was released on a medical parole on Jan.
20 of this year. The documentary that he produced after leaving Middlebury
and before his arrest is titled "Melody in Exile."
The College will award Houghton
Freeman a Doctor of Humane Letters degree. He is the chairman of the Stowe,
Vt.-based Freeman Foundation, whose work includes strengthening the bonds
of friendship between the United States and Far East through education;
conserving natural lands and farmland in Vermont and elsewhere in the
U.S.; and offering Freeman Vermont Scholarships, which provide support
annually to 16 Vermont students with financial need enrolled at Middlebury.
Freeman began his long career in insurance in 1947 with the American International
Group, or AIG, where he remained until his retirement in 1994 and where
he continues to serve as an honorary director. He held senior management
and executive positions with AIG and numerous AIG companies and organizations,
including the presidency and chairmanship of American International Underwriters
and a directorship of The Starr Foundation. Freeman is a trustee of the
Asia Society and trustee emeritus of his alma mater Wesleyan University.
Victor R. Swenson will receive
a Doctor of Letters degree. He served as the founding executive director
of the Vermont Council on the Humanities from 1974 until his retirement
in February of this year. Under his leadership, the private, nonprofit
organization, which is an affiliate of the National Endowment for the
Humanities, has become a cultural force in Vermont, offering programs
with a strong focus on books, reading and literacy. Prior to this position,
Swenson taught history at the University of Massachusetts in Amherst,
his alma mater Oberlin College, and Johnson State College in Vermont.
He has served as a member and a trustee of numerous institutions, including
the Lamoille Union High School board and the Vermont Historical Society,
and as a member of planning committees for organizations such as the American
Library Association.
The College will present
Roger Wilkins with a Doctor of Letters degree. A journalist and civil
rights activist, Wilkins has been the Clarence J. Robinson Professor of
History and American Culture at George Mason University since 1988. He
has worked at both The New York Times and The Washington Post, where,
as a member of the paper's editorial page staff, he shared a 1973 Pulitzer
Prize in Public Service awarded to the paper for investigation of the
Watergate case the previous year. He is the author of "A Man's Life:
An Autobiography" and "Jefferson's Pillow: The Founding Fathers
and the Dilemma of Black Patriotism." An active public servant, Wilkins
is an appointed member of the District of Columbia Board of Education,
a member of the board of the NAACP Legal Defense Fund, and the former
chair of the Pulitzer Prize board.
The outdoor graduation ceremonies
will take place on the lawn behind Forest Hall on College Street (Route
125) at 10 a.m. on Sunday, May 26. More than 4,000 family and friends
are expected to attend. In the case of severe weather, commencement will
be held in Kenyon Arena on Route 30.