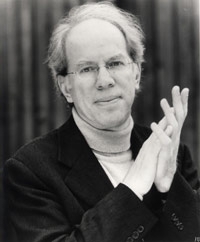 MIDDLEBURY, VT - World-renowned
Latvian violinist Gidon Kremer will make his Middlebury College Performing
Arts Series debut with an exceptional two-intermission all-Bach program
beginning at 7 p.m., Saturday, May 4, in the Concert
Hall at the Center for the Arts on South Main Street (Route 30).
The
program will feature Bach's complete Sonatas and Partitas for solo violin-an
undertaking typical of the effort on which Kremer has built a worldwide
reputation over a 25-year career.
After
a 1997 appearance with the New York Philharmonic, The New York Times wrote:
"As so often before, Gidon Kremer showed in a brilliant performance
… that he may just be the finest and most versatile violinist of
the day."
Kremer
is at home on the major concert stages of Europe and America, alongside
celebrated orchestras and working with leading conductors including Leonard
Bernstein, Herbert von Karajan, Andre Previn, Claudio Abbado and Sir Neville
Marriner. A prolific recording artist, Kremer has recorded more than 100
albums.
Newsday
calls Kremer "ceaselessly original and inquisitive" onstage,
"one of those few performers capable of exalting the music he plays."
Kremer's
repertoire is vast. While he embraces the standard, classical and Romantic
violin works, he thrills in exploring contemporary compositions by 20th
century masters, such as Henze, Berg and Stockhausen. Kremer says he views
music as an "expansion of the spirit." To that end, he gives
a high profile to works of living Russian and Eastern European composers
in particular.
To
cultivate new repertoire, Kremer founded a summer music festival 20 years
ago in the small Austrian village of Lockenhaus. The intimate, informal
gathering pairs musicians from all over the world to collaborate and create
new music. Festival artists subsequently tour throughout the world. Kremer
also founded the Kremerata Baltica chamber orchestra in 1996 to foster
exceptional young artists from the Baltic states. He tours frequently
with the group as artistic director and soloist.
Born
in 1947 in Riga, Latvia, Kremer has been playing violin since age four.
His formal training included an apprenticeship under master David Oistrakh
at the Moscow Conservatory.
His
May 4 concert is sponsored by the Middlebury College Performing Arts Series.
(The concert will begin at 7 p.m., which is an hour earlier than it was
originally scheduled to begin according to the Middlebury College 2001-2002
Arts Calendar.) Tickets for the performance are $10 for general admission
and $8 for seniors. For tickets or information, contact the College box
office at 802-443-6433.