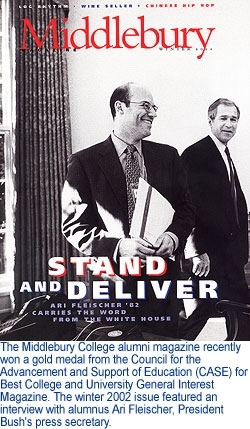 MIDDLEBURY, Vt.-The Middlebury College alumni magazine was awarded the gold medal for Best College and University General Interest Magazine by the Washington, D.C.-based Council for the Advancement and Support of Education (CASE). Awards are presented annually in three subcategories organized by the size of a magazine's circulation. With a circulation of more than 36,000, the Middlebury Magazine competed against 50 other entries with circulations of 30,000-75,000. The Dartmouth Alumni Magazine was also awarded a gold medal.
For the last six out of seven years, Middlebury Magazine has placed among the top three in the country in CASE's general interest magazine category, which considers all aspects of a magazine-content, writing, editing, design, photography and printing quality. Judges also evaluate how well the magazine communicates with its audience and reflects an understanding of it. The 2002 award is the first gold medal the magazine has received.
According to former Middlebury Magazine Editor Rachel Morton, who earlier this year accepted a position as features editor of The Burlington Free Press, the quality of a magazine results from an institutional commitment to produce a lively publication that also informs and entertains. "The magazine is put together with readers in mind," said Morton. "If a college magazine is to represent the institution effectively, it has to be read. We worked very hard on story selection and we made sure that the magazine had as much visual appeal as we could give it," she said.
"President McCardell and other administrators trusted the magazine staff and allowed us to stretch the boundaries, to take chances, and to go for the best possible magazine we could. It paid off," added Morton.
Middlebury Magazine is now a candidate for CASE's $2,000 Grand Gold medal award for Robert Sibley Magazine of the Year. Newsweek magazine sponsors the award and conducts the judging. The winner will be selected from gold medalists in two categories-College and University General Interest Magazines and Special Constituency Magazines.
Produced quarterly, Middlebury Magazine is printed at Lane Press in South Burlington.
The magazine's Web site address is: http://www.middlebury.edu/administration/middmag.