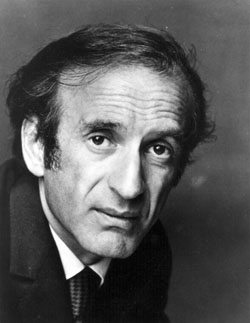 MIDDLEBURY,
VT - Elie Wiesel, Nobel Peace Prize winner and Boston University professor,
will speak at Middlebury College on Tuesday, Sept. 10, at 4:30 p.m. in
Mead Chapel on Hepburn Road off College Street (Route 125). His talk,
"Reflections on September 11 One Year Later," will be
this year's John Hamilton Fulton Memorial Lecture in the Liberal Arts.
Following the lecture, from 5:30 to 6:30 p.m., there will be a reception
in the Redfield Room of Proctor Hall, which is also on Hepburn Road. Copies
of Wiesel's new novel, "The Judges," will be available for purchase
and signing by the author at the reception. Both the talk and the reception
are free and open to the public.
Wiesel
has worked on behalf of oppressed people for much of his adult life. His
personal experience of the Holocaust has led him to use his talents as
an author, teacher and storyteller to defend human rights and peace throughout
the world.
Wiesel's
efforts have earned him the Presidential Medal of Freedom, the United
States Congressional Gold Medal and the Medal of Liberty Award, the rank
of Grand-Croix in the French Legion of Honor and, in 1986, the Nobel Peace
Prize.
After
receiving the Nobel Peace Prize, Wiesel and his wife Marion established
The Elie Wiesel Foundation for Humanity, with a mission to advance the
cause of human rights and peace throughout the world by creating a forum
for the discussion of urgent ethical issues confronting humanity.
A
survivor of Auschwitz and Buchenwald, Wiesel wrote about what he had endured
as an inmate in the death camps in his 1958 book, "La Nuit"
("Night"). This book has been translated into 30 languages
and millions of copies have been sold.
Wiesel
has since written more than 40 books, including the award-winning works
of fiction "A Beggar in Jerusalem," "The Testament"
and "The Fifth Son;" the memoirs "All Rivers Run to the
Sea" and "And the Sea is Never Full;" and his most recent
novel "Les Juges" ("The Judges"), published
in English this month.
Since
1976, Wiesel has been the Andrew W. Mellon Professor in the Humanities
at Boston University, where he also holds the title of university professor.
The
John Hamilton Fulton Lecture
The
John Hamilton Fulton Lecture in the Liberal Arts was established at Middlebury
College in 1966. The late Alexander Hamilton Fulton, an emeritus member
of the Middlebury College board of trustees, donated the gift that established
the lectureship, which is named in honor of his father.
Previous
Fulton lecturers have included Beverly Sills, James A. Baker III, William
H. Rehnquist and Wynton Marsalis.
For
more information, contact Kathleen Knippler in the office of the secretary
of Middlebury College at knippler@middlebury.edu
or 802-443-5393.