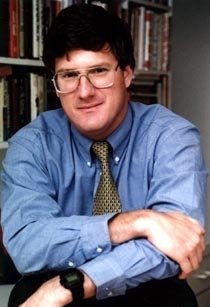 MIDDLEBURY,
Vt.-Scott Ritter,
former chief weapons inspector for the United Nations Special Commission
in Iraq, will give a talk titled "The Coming War With Iraq: How Did
We Get Here?" on Monday, Sept. 23, at 7:30 p.m. in the Concert Hall
of the Middlebury College Center for the Arts on South Main Street (Route
30). Both the talk and a reception immediately following it are free and
open to the public.
A former major in the United
States Marines, Ritter is an ardent critic of the current Bush administration's
plans for war against Iraq. Ritter participated in 30 inspection missions
during the 1990s, 14 of them as chief. His talk will include his assessment
of the state of Iraq's military capabilities, particularly in the area
of weapons of mass destruction. He will also discuss the U.N. sanctions
against Iraq, which he believes have had a devastating impact on the Iraqi
people.
For more information, contact
Charlotte Tate at the Middlebury College Center for International Affairs
at tate@middlebury.edu or 802-443-5795.