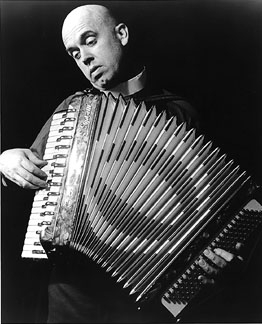 MIDDLEBURY,
VT- Rinde Eckert is an artist whose talents surpass labels, categories
or common two-dimensional descriptions. Simultaneously a singer, musician,
dancer, actor, director, writer and storyteller, Eckert will share his
unique style and art form at 8 p.m. on Friday, Sept. 27, at Middlebury
College's Wright Theatre, located on Château Road off College Street
(Route 125).
Eckert, who has previously
performed at Middlebury College, will present "An Idiot Divine,"
a combination of two of his original solo pieces: "The Idiot Variations"
and "Dry Land Divine."
Tall, bald and broad-shouldered,
Eckert poses a powerful stage presence. He describes his work as "fiercely
interdisciplinary." The tools of his performance art are his unique
tenor-countertenor voice combined with skillful movement, a variety of
instruments-trombone, accordion, harmonica, percussion and keyboard-and
his original writings.
According to The New York
Times, who compared him to Bertolt Brecht, Samuel Beckett, Tom Waits and
Laurie Anderson, "Eckert is an instinctive showman who preens his
considerable skills with contagious enjoyment."
The San Francisco Chronicle
declared, "In a world of cookie-cutter entertainers, this charismatic
one-man band looks and sounds like no one else."
Eckert's range dazzles audiences
and critics alike. "A powerful singer, Eckert is also an extraordinary
physical actor, an ingenious mime and a brilliant impersonator,"
wrote the San Antonio Express News.
Eckert's other projects
include music concerts and tours through Europe and the United States
with the Stimmen-World Voices Festival. He has directed "Wenji,"
the one-act chamber opera based on the true story of Cai Wenji, a Chinese
woman scholar and musician who lived during the second century A.D. He
has collaborated with the Paul Dresher Electro-Acoustic Band, the Margaret
Jenkins Dance Company, videographer John Sanborn, and sound designer Jay
Cloidt. Several CDs of his eclectic music are available on the German
label Intuition. He lives in New York and California.
Eckert's performance is
sponsored by the Middlebury College Performing Arts Series. Tickets are
$10 for general admission and $8 for seniors. For tickets, call the College
Box Office at 802-443-6433.