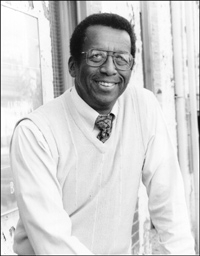 MIDDLEBURY,
VT - Author and historian James Oliver Horton will give a lecture
titled "The Critical Decade: Race, Violence and the Coming of the
Civil War" at Middlebury College on Friday, Oct. 4, at 8 p.m.
Horton is the Benjamin Banneker
Professor of American Studies and History at George Washington University
and director of the Afro-American Communities Project at the National
Museum of American History of the Smithsonian Institution. Horton's
talk is the College's 28th annual Charles S. Grant Memorial Lecture
and will take place in Mead Chapel on Hepburn Road off College Street
(Route 125). The lecture is free and open to the public.
Horton has served as historical
adviser to the Underground Railroad Freedom Center, the National Civil
Rights Museum, Colonial Williamsburg, and Monticello. President Clinton
appointed him to serve on the Abraham Lincoln Bicentennial Commission.
He has been historical consultant to numerous film and video productions,
including those that have aired on the television and cable networks ABC,
PBS, C-SPAN, the Discovery Channel and the History Channel.
Horton is also the author
of many books, including "Free People of Color" (1993) and "Hard
Road to Freedom: The Story of African America" (2001). He is the
co-author, with Lois E. Horton, of "In Hope of Liberty: Culture,
Protest, and Community Among Northern Free Blacks, 1700-1860" (1997).
Last winter he was host of the television special, "A Fragile Freedom:
African American Historic Sites," based on his forthcoming book,
"The Landmarks of African American History," which will be published
by Oxford University Press in 2003.
Horton received his doctorate
from Brandeis University. In 1988-89, he was Senior Fulbright Professor
of American Studies at the University of Munich, and he has lectured throughout
Europe and in Thailand and Japan. In 1993, former Secretary of the Interior
Bruce Babbitt appointed Horton to serve on the National Park System Advisory
Board, and he was elected board chair in 1996. He is also a member of
the board of directors of the Salzburg Seminar, based in Middlebury and
Salzburg, Austria. Horton will assume the presidency of the Organization
of American Historians in 2004.
The late Charles S. Grant
was a gifted and much loved teacher and esteemed scholar at Middlebury
College in the 1950s until his untimely death in 1961. Shortly thereafter,
several of his colleagues and friends in the Middlebury community formed
a committee and created a fund that became large enough to establish an
annual lectureship in American history as a tribute to him. Many of the
most prominent American historians of the past 35 years have delivered
Grant lectures. Previous speakers range from David McCullough, author
of the best-selling biography "John Adams," to Arthur M. Schlesinger,
Jr., who served from 1961-1963 as special assistant to President John
F. Kennedy.
For more information, contact
Travis Jacobs of the Middlebury College history department at 802-443-5315.