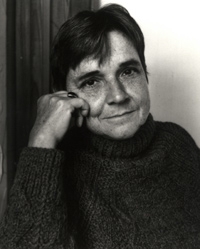 MIDDLEBURY,
VT - Award-winning poet Adrienne Rich will give a reading of new unpublished
and recently published works on Thursday, Oct. 3, at 4:30 p.m. at Middlebury
College. A book signing will immediately follow the reading and a variety
of Rich's books will be available for purchase. The event will take
place in Dana Auditorium in Sunderland Language Center on College Street
(Route 125), and is free and open to the public.
Rich is the author of more
than 15 volumes of poetry, including, "Diving into the Wreck,"
"The Dream of a Common Language," and "Midnight Salvage."
She has also written four works of nonfiction, including "Of Woman
Born: Motherhood as Experience and Institution" and "Arts of
the Possible: Essays & Conversations." Her most recent poetry
collection, "Fox: Poems 1998-2000," was published in the fall
of 2001 by W.W. Norton.
Rich is the recipient of
many awards, including the 1996 Tanning Award for Mastery in the Art of
Poetry, the Lannan Foundation's 1999 Lifetime Achievement Award,
and the National Book Award. She has also received numerous fellowships,
such as an Academy of Poetry Fellowship, two Guggenheim Fellowships, and
a MacArthur Fellowship.
The reading and book signing
are sponsored by the office for institutional diversity at Middlebury
College.
For more information, contact
Jessa Karki in the Middlebury
College office of institutional diversity or call ext. 802-443-5615.