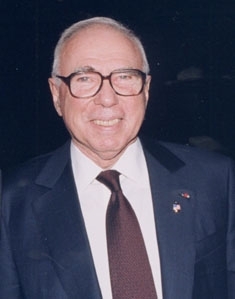 MIDDLEBURY,
VT - Felix G. Rohatyn, former United States ambassador to France from
1997 to 2000, will give a talk titled "American Democracy: Freedom,
Fairness and Wealth" on Friday, Oct. 11, at 8:30 p.m. in Middlebury
College's Mead Chapel on Hepburn Road off College Street (Route 125).
Following the talk, there will be a reception in the Redfield Room of
Proctor Hall across the street from Mead Chapel. Both the talk and the
reception are free and open to the public.
Rohatyn
graduated from Middlebury in 1949. He is the president of Rohatyn Associates,
a New York firm that he founded in April 2001, which provides financial
advice to corporations. Prior to his appointment as ambassador to France,
Rohatyn was a managing director of the investment bank Lazard Frères
and Company in New York, which he joined in 1948, becoming a partner in
1961. From 1975 to 1993, he was chairman of the Municipal Assistance Corporation
(MAC) of the City of New York, where he managed the negotiations that
enabled New York to pull itself out of its financial crisis in the 1970s.
Rohatyn is a trustee of the Center for Strategic and International Studies
and a member of the Council on Foreign Relations.
Born
in Vienna, Austria, on May 29, 1928, Rohatyn received his secondary school
education in France. He has lived in the United States since 1942 and
resides in New York City.
Rohatyn's
lecture will take place in conjunction with the renaming of the College's
Center for International Affairs (CFIA) as the Rohatyn Center for International
Affairs, which will take place at a dedication ceremony on Oct. 12. In
March of this year, Middlebury College announced that it had received
a $1 million gift from the Felix and Elizabeth Rohatyn Foundation that
would be used to establish an endowment for the center, and that the center
would be renamed. The endowment will support the center's lectures, symposia,
executive-in residence-program, and international colloquia, and will
provide funding for visits to campus by international leaders, scholars,
diplomats, and business people.
For
more information, contact the Middlebury College office of public affairs
at 802-443-5198.