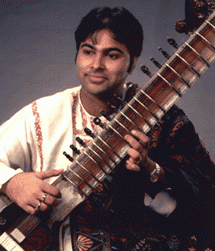 MIDDLEBURY,
VT - Purbayan Chatterjee, sitarist, and Abhijit Banerjee, tabla player,
will perform a concert of North Indian classical music Thursday, Oct.
17, at 7:30 p.m. in the Concert Hall of the Middlebury College Center
for the Arts on South Main Street (Route 30). The event is free and open
to the public.
Chatterjee,
who is just 26 years old, received the President's Award for being the
best instrumental musician in the All India Radio Music Competition when
he was 17. He studies with Ali Akbar Khan, one of the most accomplished
Indian classical musicians of today. Chatterjee is hailed as one of the
brightest sitar performers of the younger generation.
Banerjee
studied with the late tabla maestro Pandit Gyan Prakash Ghosh and has
been on concert tours with many of the leading classical musicians of
India.
The
concert is sponsored by Middlebury College Brainerd Commons.
For
further information, contact Jennifer Nelson in the Middlebury College
Brainerd Commons office at 802-443-3321