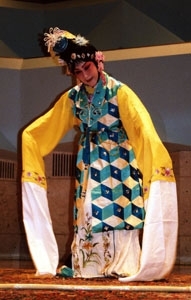 MIDDLEBURY,
VT - The Yeh Yu Chinese Opera Association of the greater New York
area will present an evening of traditional Peking opera Friday, Oct.18,
at 7 p.m. in Middlebury College McCullough Student Center on Old Chapel
Road off South Main Street (Route 30). Subtitles will be provided. The
event is free and open to the public.
Peking
opera is a lavish spectacle incorporating voice, music, dance, martial
arts, pantomime and acrobatics. Yeh Yu will perform excerpts from three
traditional Peking operas: "The Three-forked Crossroads," "The
Price of Hesitancy," and "The Broken Bridge."
The
Yeh Yu Chinese Opera Association is a nonprofit artistic organization
founded in 1958 by a handful of Peking opera artists in New York City.
It has since grown to a membership of close to 100 and has a repertoire
of more than 40 authentic traditional Peking operas, a full orchestra,
and an extensive costume wardrobe. In 1997, Yeh Yu received a New York
City Peoples Hall of Fame award for preserving Chinese opera and bringing
it to the people of New York.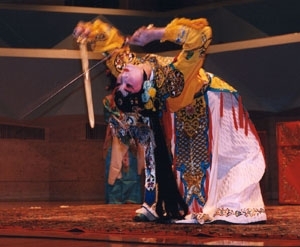 For
more information, contact the Middlebury College office of public affairs
at 802-443-5198.