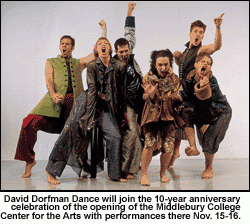 MIDDLEBURY,
VT - The David Dorfman Dance Company helped launch Middlebury College's
Center for the Arts (CFA) a decade ago. To celebrate its 10th anniversary,
the center is featuring return visits this year by many favorites, including
David Dorfman Dance for two performances, Friday and Saturday, Nov. 15
and 16, both at 8 p.m., in the CFA Dance Theatre located on South Main
Street (Route 30).
Known for athleticism and a wry tone, maverick choreographer David Dorfman
and his company will perform two pieces. In "To Lie Tenderly,"
Dorfman explores the idea that movement can lie. In "Subverse,"
he recounts memories of the New York dance club scene of the late 1970s
and 1980s. In addition to its namesake, the company consists of five members,
including Paul Matteson, a 2000 Middlebury graduate and winner of a 2002
Bessie-a New York Dance and Performance Award.
Earlier this year, the company performed both works in Seattle. The Seattle
Post-Intelligencer wrote that the productions "showcase a mature
artist whose ability to interweave stunning visual images with an exuberant
sense of fun is firmly rooted. … For almost 20 years now, David Dorfman
has been refining his prodigious talent. It is profoundly rewarding and
incredibly exciting to see him hit his mark dead on."
Dorfman's approach onstage offers a new perspective. The audience can
expect dancers to speak, musicians to dance, and dancers to play instruments
as they move. The look of Dorfman's company is far from the glamorous
ideal of the dance world. Instead, its members strive for individuality
that more closely resembles everyday people.
Since it formed in 1985, the company has amassed an impressive list of
critical honors, including seven Bessie awards. Dorfman himself has been
the recipient of four fellowships from the National Endowment for the
Arts and an American Choreographer's Award. The company has performed
and collaborated extensively in New York City, where it is based, as well
as across North and South America, Great Britain and Europe.
Dorfman is also an avid collaborator who frequently works as a guest artist
at institutions across the United States and abroad, including the American
Dance Festival, Scottish Youth Dance, the University of Colorado and New
York University. His teaching efforts range from college campuses to corporate
workshops, all with the purpose of stretching people's conventional ideas
of dance and its participants. "I want to put life onstage,"
he told The Miami Herald.
He did just that in a series of community-based projects in recent years.
To much critical and popular acclaim, Dorfman reached out to a host of
different volunteer groups in cities across America-athletes, family members,
young people and professionals. In each case, the company worked intensively
for a couple of weeks with people who had never danced onstage before,
presenting a work at the end of each project.
David Dorfman Dance is sponsored
by the Middlebury College Performing Arts Series, the Center for the Arts,
and the Department of Theatre and Dance.
Tickets are $10 for general admission and $8 for seniors. For tickets
or information, contact the College box office at 802-443-6433. Online
tickets or information are available at http://www.middlebury.edu/cfa.