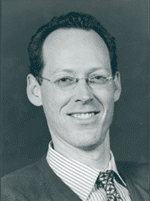 MIDDLEBURY,
VT - Paul Farmer, M.D., Ph.D.,
will speak at Middlebury College on Sunday, Jan. 26, at 4 p.m. in the
conference room in the Robert A. Jones House on Hillcrest Road, off College
Street (Route 125). "Pathologies of Power: Health, Human Rights,
and the New War on the Poor," the title of his talk, is also that
of his forthcoming book. Currently professor of medical anthropology at
the department of social medicine at Harvard Medical School, Farmer conducts
clinical work that focuses on diseases disproportionately afflicting the
poor. He teaches social medicine courses and also trains medical students,
residents and fellows at Harvard's Brigham and Women's Hospital. He has
served as visiting professor at institutions throughout the United States
as well as in France, Canada, Peru, the Netherlands, Russia and Central
Asia. The lecture is free and open to the public.
Farmer is co-founder
of the international health organization Partners in Health, a nonprofit
organization active in Latin America, the Caribbean, Asia and the U.S.,
and he divides his clinical time between Boston and a charity hospital
in rural Haiti, where he serves as medical co-director.
An infectious
disease physician as well as anthropologist, Farmer has worked in communicable
disease control for over a decade and is a world-renowned authority on
tuberculosis treatment and control. Along with his colleagues in the Program
in Infectious Disease and Social Change at Harvard, he has pioneered community-based
treatment strategies in low-income areas for such illnesses as tuberculosis,
sexually transmitted infections-including HIV-and drug-resistant typhoid.
Farmer has
written extensively about health and human rights, and the role of social
inequalities in the distribution and outcomes of readily treatable diseases.
Among the titles of his books are "AIDS and Accusation"(1992)
and "Infections and Inequalities" (1999). He also co-edited
"Women, Poverty, and AIDS" (1997).
A member of
the International Scientific Committee's International Conference on AIDS,
Farmer has served on numerous international committees of the World Health
Organization. He currently serves on the Commonwealth of Massachusetts'
Bureau of Communicable Disease Control.
In recognition
of his work, Farmer has received numerous awards, including the Duke University
Humanitarian Award, the Margaret Mead Award from the American Anthropological
Association, and a 1993 John D. and Catherine T. MacArthur Foundation
"genius award."
Farmer's lecture
is co-sponsored by the Middlebury College Rohatyn Center for International
Affairs and the College's Atwater Commons in conjunction with the winter
term course "Private Actions and the Public Good" taught at
Middlebury by former Vermont Governor Madeleine Kunin and A. Joshua Sherman,
a philanthropic consultant.
For more information,
contact Emmie Donadio of Atwater Commons at donadio@middlebury.edu
or 802-443-2240.