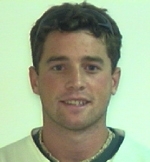 MIDDLEBURY,
VT - In Jon Isham's environmental economics class last spring,
senior Rob Chisholm drew on his experiences growing up in a small, lobster-fishing
town in Nova Scotia to write an award-winning paper about the community's
unique resource management system. With Isham's support, Chisholm
decided to pursue the topic for his thesis, and to submit the paper, titled
"Drawing the Line: Informal Property Rights in a Nova Scotia Lobster
Fishery," to the environmental economics category of the 2002 Ohio
State University National Undergraduate Essay Contest. Chisholm's
paper earned first-prize distinction—shared with a student from
the University of Michigan—amidst other topflight, original essays
entered by students nationwide. Chisholm was notified by a Jan. 21 e-mail
announcing that, in addition to his half of the $1,500 grand prize, he
will receive a $250 "field prize" for the category.
"The management system used in my hometown is a 'common-pool'
resource system," said Chisholm, an environmental studies major
with a focus on policy. "It limits access to the resource and assigns
property rights to individual fishermen, informally establishing who fishes
in the area immediately around the local wharf, and allowing some fishermen
exclusive access to large areas on the water. This decreases potential
for over-fishing in those areas."
Essays were ranked upon such considerations as the importance and clarity
of the economic problem presented, the appropriate use of economic concepts
and theory, strength of conclusions and implications drawn from the analysis,
and evidence of student creativity and originality. The winning papers
will be recognized and published by Ohio State University within the next
six months.
"When Rob turned in his first draft, it was clearly a stellar piece
of research, well-written and creative. I knew right away his paper had
the potential to win this national contest," said Isham, Chisholm's
advisor.
Impressed with Middlebury College's environmental
studies, Chisholm transferred from Princeton to Middlebury to take advantage
of the strength of the College's program. At Middlebury, he sought
and received a Ronald H. Brown internship that allowed him to pursue his
thesis research with the Gulf Nova Scotia Bonafide Fishermen's Association
in Antigonish, his hometown in Nova Scotia. Chisholm spent last summer
studying local fishery issues and interviewing fishermen for an independent
project that will become part of his senior thesis.
"Where I'm from, in Nova Scotia, you're either a lobster
fisherman or a relative of a lobster fisherman," commented Chisholm.
"This was a great opportunity for me to apply my college education
toward the good of my home community."
According to Isham, Chisholm's work clearly illustrated that the
common use of a natural resource does not have to lead to an environmental
tragedy. "Local people, under the right circumstances, can sustainably
manage inshore fisheries," said Isham. "In Rob's paper,
he shows what those conditions are," he said.
Chisholm hopes to continue studying inshore resource management efforts
around the world, traveling to other locales to research problems and
solutions. He hopes, ultimately, to participate in Canadian resource policy-making,
applying his expertise toward bringing into focus the human element in
policy decisions.
"The lobster fishermen back in Nova Scotia work hard and well with
their community toward preserving their resources for its future—and
this, I believe, is indicative of many other lobster-fishing communities
all the way from Maine to Newfoundland," said Chisholm. "Policy
must recognize that kind of work at the grass roots level," he added.
While not working on his thesis studies, Chisholm—who started skating
"late" in life when he was six years old—devotes a huge
amount of time and energy serving as this year's captain of the
men's hockey team, leading the top-10 Division III team in a winning
season. He and his teammates also volunteer in the local Middlebury community
as mentors and goal-setting program leaders for area schools in conjunction
with the Cornwall, Vt.-based Foundation for Excellent Schools.
During his career as a college student, Chisholm has never taken the typical
spring break vacation. He plans to put his prize money to good use this
year, however, remedying that situation and rounding out his college experience.
In last year's competition, another Middlebury athlete, Alison Connolly,
class of 2002, won honorable mention for her paper titled "The North
Atlantic Swordfish Industry: Improving Current Policy to Effectively Reduce
Overfishing."