Contact: Sarah Ray
802-443-5794
sray@middlebury.edu
Posted: April 18, 2003
MIDDLEBURY,
VT - The Middlebury
College Musical Players
(MCMP), a student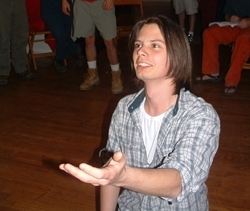 group
dedicated to bringing musical theater productions to campus, will perform
Stephen
Schwartz's "Children of Eden" on Friday, April 25, at
8 p.m.; Saturday, April
26, at 2 p.m. and 8 p.m.; and Sunday, April 27, at 2 p.m. All performances
will take place at the McCullough Student Center on Old Chapel Road off
South Main Street (Route
30).
The
plot of the show is based loosely on Old Testament stories, including
the creation story, Adam and Eve's expulsion from the Garden of
Eden, the conflict
between Cain and Abel, and Noah and his family's survival of the
flood. Yet, the production focuses on issues that are relevant to all
audience members, whether religious or not. "'Children of
Eden' may be based on the first nine chapters of Genesis,"
said actress and Middlebury College junior Erin King, "but the themes
addressed are universal. The story is a funny, moving and honest portrayal
of how these well-known families deal with growing up, accepting responsibility,
and learning that parents aren't always perfect."
"I'm
really excited about this production," said producer and senior
Teri Chadbourne. "It's very different from anything we've
done before, but it's a great show and I think it will be well received."
According to Chadbourne, "Children of Eden" is often referred
to as a rock musical, but it offers a blend of musical genres, from pop
and jazz to gospel, as well as several traditional Broadway-style numbers.
"There are some really touching moments when the orchestra breaks
off and we're singing eight-part harmony a cappella. It gives us
goose bumps every time. This is the most complex score that I've
ever seen in a musical, with a lot of repeating themes that complement
the show's parallel storylines. It's a very cleverly constructed
musical that combines a sense of humor with a powerful and universal message,"
added Chadbourne.
The
27-member cast of "Children of Eden" is the largest in the
Musical Players' eight-year history. Adam and Eve are played by
sophomore Jake Nicholson and junior Erin King, both of whom had leading
roles in last year's "How to Succeed in Business Without Really
Trying." The rest of the cast is a mix of newcomers and veterans
to MCMP. Noah and his wife are played by first-year students Kevin Velez
and Shannon Gmyrek, and the sons of both couples are played by sophomore
Graeme Connell (Abel/Ham) and first-year students Ian Fleishman (Cain/
Japheth) and Adam Beard (Seth/Shem). The wives of Noah's sons are
played by first-year students Retta Leaphart, Jenny Bemis and Rachel Dunlap.
First-year student Nick Cloutier leads the cast as Father. Junior David
Moan directs the production.
General
admission is $5, and admission for children, students and seniors is $3.
Tickets are available at the Middlebury Inn or by phone at (802) 443-6138.
All remaining tickets will be sold at the door 45 minutes prior to the
show. Information is also available at (802) 443-6138.