Popular cello-piano duo David Finckel and Wu Han to perform all-Russian program Sept. 19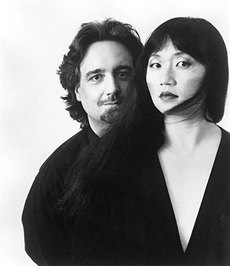 MIDDLEBURY, Vt.*Chamber music fans will welcome the return of cellist David Finckel and pianist Wu Han when the acclaimed husband-wife duo performs in the Middlebury College Center for the Arts Concert Hall on Friday, Sept. 19, at 8 p.m. Finckel and Han's program of sonatas by Rachmaninoff, Prokofiev and Shostakovich will complement the annual Middlebury College Clifford Symposium, which this year will take place on Sept. 18-20 and will focus on the 300th anniversary of St. Petersburg, Russia.
Garnering superlatives from the press and the public, Finckel and Han are in the top rank of international musicians. The Los Angeles Times declared, "This chamber music duo is an inspired pairing, conversant with the material and each other's motions. Finckel makes his instrument sing with a natural eloquence, at once muscular and supple. Han, for her part, dispatches musical material without flinching and without losing emotional mooring."
Their engagements take them to some of the most prestigious venues across the United States, including Washington's Kennedy Center, New York's 92nd Street Y, Atlanta's Spivey Hall, the University of Chicago's Mandel Hall, Boston's Gardner Museum, and Aspen's Harris Concert Hall.
The duo has toured in Mexico, Canada, the Far East, Scandinavia and continental Europe to unanimous critical acclaim. Their presentation of the complete Beethoven cycle in Tokyo was a recent highlight, as were their debuts in Germany, and at Finland's Kuhmo Festival.
Finckel and Han's wide-ranging musical activities also include the launch of ArtistLed (www.ArtistLed.com), the first musician-directed and Internet-based recording company. One recent ArtistLed recording by the duo is an all-Russian disc offering works by Rachmaninov, Prokofiev, and Shostakovich?the same composers featured on their Middlebury program. The disc received the BBC Music magazine's coveted "Editor's Choice" distinction.
The duo is regularly featured in the country's most important music festivals. Recent summer appearances were highlighted by performances at the Santa Fe Chamber Music Festival and Chamber Music Northwest, where they performed all five Beethoven sonatas in a single, sold-out marathon event. They have also appeared at festivals in Maine, Mexico, Finland and at SummerFest La Jolla, where they served as artistic directors from 1998-2000. Finckel and Han have been regular members of the Isaac Stern Chamber Music Encounters at Carnegie Hall and at the Jerusalem Music Center. They appear annually in the Aspen Music Festival's Distinguished Artist Master Class series.
The Middlebury College Performing Arts Series is sponsoring Finckel and Han's concert.
Reserved seating tickets for the Sept. 19 performance are $12 for general admission and $10 for seniors. For tickets, contact the College Box Office at 802-443-6433 or visit the College's Web site at www.middlebury.edu/arts.