Bluegrass Gospel Project concert on April 9 to benefit Heifer International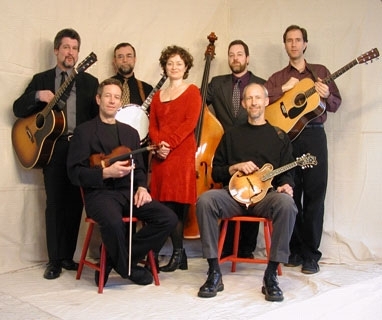 Praise for The Bluegrass Gospel Project
—Vermont Life (Spring 2003)
MIDDLEBURY, Vt.-The Bluegrass Gospel Project (BGP) will give a concert at Middlebury College at 8 p.m. on Saturday, April 9, in Mead Chapel on Hepburn Road off College Street (Route 125). All proceeds from the event will benefit Heifer Project International, an Arkansas-based hunger relief organization. The college's office of the chaplain organized the concert as part of a year-long hunger awareness effort on campus.
Featuring seven of the Northeast's premiere bluegrass, country and folk musicians, the BGP performs bluegrass songs infused with gospel lyrics. Steeped in the tradition of this uniquely American strain of Appalachian music, the BGP crafts both classic and original gospel-inspired songs with lively instrumentation and layered vocal harmonies.
Each member of the band brings decades of performance experience to the stage. The alternation of lead singers and diversity of styles results in a variety of band configurations in each performance. The band members are: Gene White Jr., fiddler; Paul Miller and Andy Greene, singer-guitarists; Steve Light, banjo player; Patti Casey, singer-songwriter; Jim DiSabito, bassist; and Taylor Armerding, mandolinist.
The BGP was founded in 2001 when White, master fiddler and veteran of several prominent New England bluegrass and country bands, was asked to assemble a bluegrass group for a Burlington First Night celebration. To lend focus to the repertoire for this one-time event, White narrowed the performance to the spirited subgenre of bluegrass gospel.
An amalgam of blues, ragtime, jazz and other genres, bluegrass itself developed in the mountains of the southeastern United States during the 20th century, drawing in particular on the music of the Scots-Irish immigrants of Appalachia. According to the BGP's Web site, the subgenre bluegrass gospel has evolved independently, outside of the church, and is therefore a populist form of spiritual music that everyone can enjoy.
"Gospel literally means 'good news,'" said BGP member Amerding. "And that's what the BGP delivers: the good news about the human condition."
All proceeds from the concert will benefit Heifer Project International, which was founded in the 1940s to help improve the health and economic prospects of people all over the world by providing poor families with breeding pairs of animals. According to the organization's Web site, Heifer's mission is to work with communities to end hunger and poverty, and to care for the earth. Heifer's strategy is for people to share their animals' offspring with others-along with their knowledge, resources and skills-to create an ever expanding network of self-reliance.
Tickets are $15 for the general public, $12 for Middlebury College faculty and staff, and $5 for Middlebury College students. For tickets and information, contact the Middlebury College Box Office at 802-443-6433 or www.middlebury.edu/arts.
— end —