Middlebury College names Roger Sandwick recipient of the Perkins Award for Excellence in Teaching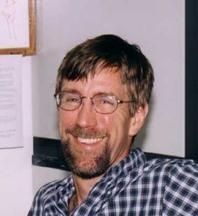 MIDDLEBURY, Vt.-Middlebury College has named Associate Professor of Chemistry Roger Sandwick the recipient of the 2005 Perkins Award for Excellence in Teaching. The award honors outstanding teaching performance in science and mathematics. At 4:30 p.m. on Tuesday, March 29, an award ceremony will be held in Room 104 of McCardell Bicentennial Hall on Bicentennial Way off College Street (Route 125).
The annual award is given to a member of Middlebury College's natural sciences division, alternating each year between a faculty member in the mathematics department and a faculty member in one of the other five departments in this division-biology, chemistry, geology, physics and computer science. The award includes recognition on two plaques, which are located in Warner Hall and McCardell Bicentennial Hall, and a grant for the support of further professional development.
Sandwick earned a bachelor's degree in glass science at Alfred University in 1976, and a doctorate in chemistry at Lehigh University in 1986. After earning his doctorate, he joined the faculty of SUNY Plattsburgh as an assistant professor of chemistry. He went on to become a professor and chair of the department, teaching there until he arrived at Middlebury College in 2002. Sandwick has taught a variety of chemistry courses at Middlebury, including "Fundamentals of Chemistry," "Organic Chemistry," "Biochemistry of Macromolecules," and "Current Topics in Biochemistry."
His biochemical research focuses on phosphate metabolites and their spontaneous and enzymatic reactions. One research project involves a study of the Maillard reaction-a reaction best known for producing the brown colors on cooked foods-and its role in producing unwanted side products in physiological systems. Another research area is the investigation of an interesting channeling process between two enzymes in a pathway that generates metabolites required for the production of DNA.
At Lehigh University, Sandwick received the Student Chemistry Fellowship and the Horner Fellowship. He is also the recipient of the 1996 SUNY Chancellor's Award for Excellence in Teaching. During his career, Sandwick has earned grants from such organizations as the National Science Foundation and The Camille and Henry Dreyfus Foundation.
He is the co-author of several textbooks, including three study guides and a book of laboratory exercises, and has contributed to numerous publications. Among his recent contributions is a book chapter he co-authored with Middlebury College 2004 graduate Matthew Johanson and senior Elizabeth Breuer that will be included in "The Maillard Reaction: Chemistry at the Interface of Nutrition, Aging and Disease," which will be published by the New York Academy of Sciences in May.
The Professor Llewellyn R. Perkins and Dr. Ruth M.H. Perkins Memorial Faculty Research Fund, which provides the award, was made possible by the gift of Dr. Ruth M.H. Perkins, a 1932 Middlebury graduate, in memory of her husband, Professor Llewellyn R. Perkins. Professor Perkins taught at Middlebury College from 1914 until his retirement in 1941. During the course of his tenure at Middlebury, he founded and chaired the mathematics department. Their children, Marion Perkins Harris, a 1957 Middlebury graduate and science teacher, and Dr. David L. Perkins, a physician, augmented the fund and expanded the scope of the award to honor their mother, Ruth, as well. She was a Vermont State helping teacher and a professor of math education at Temple University in Philadelphia.
— end —