Students ride to the rescue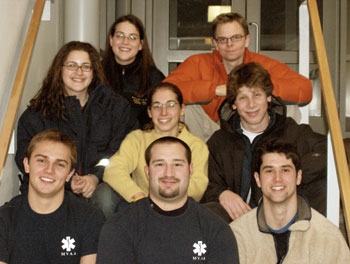 MIDDLEBURY, Vt.-In keeping with the Middlebury College community's long tradition of public service, twelve student volunteers are complimenting their academic schedules with hours dedicated to the local rescue squad, providing transport and pre-hospital emergency care to the town of Middlebury. Seniors Eric Blacher, Britton Keeshan and Spencer Taylor, and juniors Laurie Griffin, Andy Hale, Baker Lyon, Matt Malek, Will Motley and Pete Wolkowski are veteran members of the Middlebury Volunteer Ambulance Association (MVAA), which responds to more than 1,200 rescue calls each year. In the first few weeks of 2005, four new student volunteers also joined the rescue squad: juniors W. Scott Buckley and Rachel Schiffer, sophomore Scott Schwitz, and first-year student Allie Widas.
Typically, a rescue call comprises a crew of three people-the driver, a crew chief and an attendant. As attendants, the students establish patient care and assist the chief as required in any given situation. An attendant must have basic training and certification as an emergency medical technician (EMT). Certification requires a training course of 180 hours and additional mandatory training specific to the squad, where volunteers, under supervision, observe and participate in emergency calls before gaining full membership on the MVAA. Some students progress to EMT-Intermediate or EMT-Paramedic levels that include greater responsibilities such as administration of certain drugs and the establishment of IV lines. Eric Blacher, an EMT-Intermediate who is in his third year on the squad, takes on the responsibilities of crew chief and driver, and Pete Wolkowski, in his second year on the squad, is training for heavy duty rescue for car accidents, which covers how to handle structure collapse, high angle rescue, cold water rescue, and how to operate rescue equipment such as the "jaws of life," used to cut and pry open a vehicle to extricate a pinned victim.
To be members of the rescue team, the student volunteers must also make a commitment to serve a minimum of 60 hours per month, and many exceed this expectation, sometimes working as many as 20 hours per week. The students may be on call day or night, and must be prepared to respond immediately when alerted by their two-way radios. At other times, they carry pagers so they will know when extra crew members are needed for a rescue.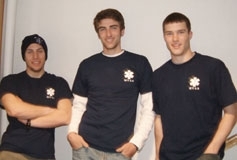 "There is a huge adrenaline rush when a call comes in," said Wolkowski, an American civilization major who also aspires to earn both a pilot's license and a captain's license for sailing. "Your heart starts racing and the call is the only thing you focus on."
"It doesn't matter how long you've been on the squad," added Blacher, "when you get that call, your heart skips a beat."
As part of the MVAA, the twelve volunteers have made a commitment to face the often daunting difficulties of emergency medical situations, and their dedication to the squad permeates their daily lives. Assumptions typical to student life are not made by these twelve; plans for a good night's sleep before an early morning class, for instance, can and will often go awry.
"The fun and intense experiences we share are unlike other experiences groups of college kids have," said Will Motley, who is a biochemistry major and Goldwater scholar. "Being a rescue volunteer provides me with countless excellent experiences; while I serve the MVAA, the MVAA is doing a great service to me."
The students find their volunteer experience both valuable and rewarding. It gives them the opportunity to meaningfully contribute to the welfare of their extended community, provides them with a new perspective while helping them form important off-campus relationships, and augments their educational experience at college.
"Because it's a town service, I've come to know a lot of the residents of the town and the surrounding communities really well. Great friendships have come out of it," said Wolkowski. "I'll have these friends in town forever."
Baker Lyon, a one-year veteran on the rescue team who is training for heavy rescue and to drive the ambulance, agrees. "The people from town give me a different perspective on my education," he said.