Shepherd Poverty Alliance selects two Middlebury students for summer internships in the common good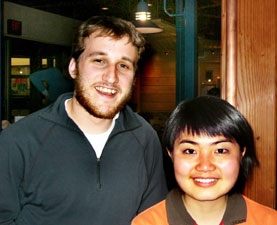 MIDDLEBURY, Vt.-Middlebury College junior S. Welcker Taylor and sophomore Chui Ying "Rachel" Fong have each received a Shepherd Poverty Alliance internship, an eight-week position that works directly with impoverished people and communities in the eastern and southeastern United States. Fong and Taylor (pictured at left) are two of 50 interns selected by Washington and Lee University for the upcoming summer. Although some students are still awaiting official notification of their assigned positions, all 50 internships will be placed in nonprofit areas of either business, community organizing, education, health care, international poverty, law or social services. Taylor will intern for the department of public advocacy in London, Ky., and Fong is scheduled for placement with Cabin Creek Health Center in Dawes, W.Va.
As an outgrowth of collaborative service efforts between Middlebury College and Washington and Lee, the Shepherd Program for the Interdisciplinary Study of Poverty and Human Capability, in its eighth year, invited Middlebury to sponsor and nominate two students for the 2005 summer internships. Five top candidates were selected from the pool of Middlebury applicants by a committee of Middlebury faculty and staff, and, after a review and interview process, Fong and Taylor were selected for submission to Washington and Lee as Middlebury's two nominees for internships. The students' work over the summer will integrate academic study and learning through public service, and given them a hands-on opportunity to acquire skills and identify career paths in the common good.
While still in high school, Rachel Fong joined several organized service trips to remote areas of Guangdong, China, and war-torn Sri Lanka. During two vacation breaks while at Middlebury, she traveled to Juarez, Mexico, on missionary trips organized by the Intervarsity Christian Fellowship, a student organization on campus. "My short-term experiences in various struggling communities around the world have given me some insight on the reality of poverty, but the Shepherd program will allow me to live in and to understand it more deeply," said Fong, a neuroscience major who requested placement in health care service. "I also want to know if I am suitable for and remain interested in a career of community development in health care," she said.
Welcker Taylor, a history major who chose law as his focus for the internship, also has a long-standing record of public service. In the summer of 2003, he helped create the Blueprint to End Chronic Homelessness Program while interning for the city in his home town of Chattanooga, Tenn., and in the fall of 2004, he co-founded Middlebury College's Civil Liberties Union-which, according to Taylor, is the first campus chapter of ACLU to be started in the state of Vermont. "I think an important seed may be planted by the Shepherd internships, which will cause students, from that experience on, to constantly contemplate the problems of social inequality that exist in every community, whether we like to look them in the face or not," said Taylor, who also broadens his college career as a certified firefighter with the town of Middlebury's volunteer fire department. "Making real changes isn't always as daunting as people tend to make it out to be. Of course, there will be huge obstacles that seem insurmountable, but once you begin to focus on effecting positive change at a manageable level, the possibilities for righting wrongs become real," he said.
On June 2, Fong and Taylor will travel to Berea College in Berea, Ky., for a 2-day orientation session with interns from all the participating schools, to interact with agency supervisors and faculty in anticipation of their summer's work. From there, the students will disperse to the various locations of their full-time summer assignments, which they are asked to chronicle in journals regularly throughout the summer. After completing the internship session, students will regroup in Lexington, Va., for the weekend of July 29 on the Washington and Lee campus for the closing conference. At the conference, students will report on their internship experiences and compare journal notes.
Both Fong and Taylor will receive a stipend from Middlebury College of $1,300 for their involvement with the program, as well as funding for travel, housing and board during the eight-week period.