Laura Helft and Kerry Krauss receive Middlebury College's Janet C. Curry '49 Science Honors Award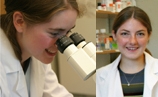 MIDDLEBURY, Vt.-Middlebury College seniors Laura Helft and Kerry Krauss received the College's 2005 Janet C. Curry '49 Science Honors Award for summer research. The award, given each year to qualified female science students who pursue departmental honors, enabled Helft and Krauss to work as research assistants on campus in Vermont this summer by providing funds for their salaries, supplies and any related travel costs. As members of respective lab teams, they were able to pursue their individual research projects as well.
Helft worked under the direction of Middlebury College Assistant Professor of Biology Jeremy Ward, characterizing a genetic mutation that causes infertility among male and female mice.  "The students in my lab do the research.  They do the hands-on bench work, and they design projects and implement them.  I devote my time to teaching them, securing funds and writing papers.  My work would not progress nearly as rapidly without them," said Ward, a specialist in the field of reproductive genetics.  "Laura has a good attitude, is self-motivated and was part of a great group that's fun to have in the lab."
Helft studied nonreproductive animal cells, grown in vitro in Ward's lab to see how mutant and non-mutant genes affect them during mitosis, the process by which cells divide.  "The protein produced by the gene is involved in the regulation of the cell cycle," she said.  "My research seeks to determine exactly where this particular protein fits into that process."
According to Ward, Helft worked on questions that will support the lab intellectually for several years.  She used this summer's research experience to help narrow her focus, settle on the subject for her independent project in the fall and, ultimately, plans to continue studies next  spring for her senior thesis.  "Professor Ward gives good advice and is really helpful," she said.  "He also allows me to pursue my own interests, which is great."
Helft, who majors in molecular biology and biochemistry, was drawn to Ward's work during her junior year when she took his class on human genetics.  To earn the Curry Award, she submitted a summer research proposal on the characterization of genes that affect mammalian reproduction.
Kerry Krauss, a biology major, received the award for her research proposal on the effect of estrogen on the expression of antioxidant enzymes during the maturation of pre-egg cells-called "oocytes"-in cows.  As part of her work under the direction of Middlebury College Assistant Professor of Biology Catherine Combelles, she collected bovine ovaries at a local slaughterhouse.  Back in Combelles' lab, Krauss isolated the oocytes from the ovaries to analyze the effects that different levels of estrogen have on their maturation process.
"We are interested in not only understanding what makes up a good quality oocyte, but also optimizing culture conditions for the maturation of oocytes in vitro," said Combelles.  "The relevance of our work pertains to the treatment of human infertility and improving embryo production, as well as the preservation of genetic material in, for instance, agriculturally important and endangered species."  According to Combelles, by ultimately amassing preliminary data for ongoing investigation, the summer's research will contribute significantly to oocyte biology, a field with many aspects that remain ill-defined.
"Kerry has been instrumental in getting my new laboratory off to a great start," Combelles said.
Like Helft, Krauss will use her experience in the lab to further develop her own related research interests. "I am trying to figure out why older women tend to have a harder time getting pregnant and a greater risk of having babies with genetic diseases," she said.
According to Krauss, her research will build upon scientific studies that have found infertility among older women to be a result of higher concentrations in their egg cells of free radicals, which are formed when a molecule is forced to give up an electron, rendering it unstable and a threat to other, stable molecules.  Krauss plans to test the influence of estrogen upon the production of antioxidant enzymes, which protect the body against the harmful effects of free radicals by neutralizing them. "I hypothesized that the increased levels of estrogen in older women are responsible for the decreased production of antioxidants, and thus the higher concentration of free radicals," Krauss said.  "So far, it looks like estrogen does decrease the production of one of my antioxidants!"
—end—