Laura Kelly and Burch Fisher '05 assist in the most extensive bathymetric mapping of Lake Champlain ever completed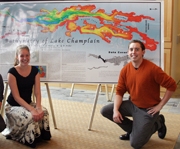 MIDDLEBURY, Vt.-Middlebury College senior Laura Kelly and recent graduate G. Burch Fisher were principal student participants on a team of scientists and researchers that has completed the "Whole Lake Survey" of Lake Champlain.  The extensive project resulted in the creation of an eight-foot bathymetric map, the most comprehensive understanding ever made available of the lake's underwater terrain.  The map was officially unveiled by Vermont Senator Patrick Leahy and Middlebury College President Ronald D. Liebowitz on July 7 in the college's science facility, McCardell Bicentennial Hall.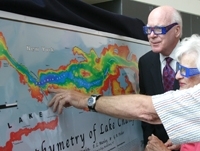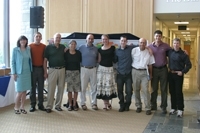 According to Kelly, every oceanography class at Middlebury College since 1996 has contributed to the survey.  Some of Middlebury's student researchers on the 10-year project were Dylan Cutler, a 2004 graduate;  Nick Prigo, a 2003 graduate; Anna Cotton and Matt Hommeyer, both 2002 graduates; Billie-Jo Gauley and Bret Tibault, both 1999 graduates; and Seth Haines, a 1997 graduate.  A local high school student, Joseph Coish, also contributed significantly to efforts of the research team, as did research assistant Marc Manley.