Adam Beard, Darcy Knowles and Livia Vastag spend the summer in a biochem lab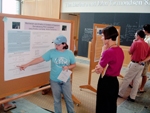 MIDDLEBURY, Vt.-Instead of catching ultraviolet rays on the beach while gazing at a New England sky, three college students spent their summer in a Vermont biochemistry lab viewing the world through a variety of scientific instruments-a research project that could ultimately further the development of better anti-cancer drugs.
Under the direction of Middlebury College Professor of Chemistry and Biochemistry Sunhee Choi, Middlebury College senior Adam Beard and juniors Darcy Knowles and Livia Vastag examined the oxidation process thought to destroy cancer-damaged DNA.  By inducing an oxidation process, the anti-cancer drug cisplatin, known as the "Lance Armstrong drug," impacts a relatively small range of cancers.  The Choi research team investigated another platinum compound called tetraplin, which Choi has discovered also binds and oxidizes DNA.  Choi and her three research assistants hope their efforts will further scientific understanding and broaden the current pharmaceutical reach toward treatment of cancer.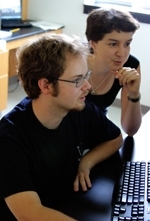 Middlebury College senior Adam Beard, joined by junior Livia Vastag, analyze data gleaned from their work this summer in the lab with Middlebury College Professor of Chemistry and Biochemistry Sunhee Choi. Photo by Ari Joseph, courtesy of Middlebury College
"Our research will enhance basic knowledge of aging, mutagenesis and cell death," said Choi.  "By discovering the mechanics of tetraplin and other platinum IV compounds, we can add a body of knowledge toward anti-cancer research, and hopefully add a small contribution toward the development, someday, of better cancer drugs-ones that will treat additional cancers, and with lesser side effects."
Choi, Beard, Knowles and Vastag not only worked to determine how quickly tetraplin binds and oxidizes DNA, they also tested other platinum compounds for qualities that would bind and oxidize DNA.
In the lab, the students studied synthesized platinum compounds to determine how and whether their structures and thermodynamic properties affect reaction rates.  Beard and Vastag synthesized platinum compounds and used spectroscopy to identify several others.  Beard, a chemistry major with a minor in music, also measured their reduction potential using a process called cyclic voltametry, and Vastag, a double-major in economics and chemistry, analyzed data and identified final products produced from the reaction of platinum compounds and guanosine derivatives.  A chemistry major, Knowles tracked, over time and at different temperatures, the spectra of some of these reactions.  She fit the spectra to kinetic equations using a computer program, and identified rate constants and kinetic parameters.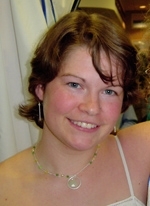 Knowles' lab work this summer tracked reactions of platinum compounds and guanosine derivatives. Photo courtesy of Darcy Knowles
"Summertime research with students is a wonderful thing," said Choi.  "We have a lot of fun."
Choi's 2004 summer research team last year, which included both Knowles and Vastag, saw the results of their work published in the Journal of the American Chemistry Society.  Along with Choi, Knowles' and Vastag's names were included as researchers for that article, titled "Oxidation of Guanosine Derivatives by a Platinum (IV) Complex: Internal Electron Transfer through Cyclization."  Choi also plans to include Beard's name with those of Knowles and Vastag in any publication resulting from the 2005 summer's work.