In wake of Katrina's wrath, Middlebury College opens its doors to displaced students
Nine students enrolled in time for
first day of classes on Sept. 12
MIDDLEBURY, Vt.-In a swift show of support for the many students who have found themselves without a campus this fall due to Hurricane Katrina, both the administration and student body of Middlebury College have welcomed nine visiting students to campus.
"Our heartfelt thoughts are with the people of New Orleans and surrounding areas," said Middlebury College President Ronald D. Liebowitz. "It's imperative that we, as an educational community, do our best to reach out to students, their families, and the affected colleges and universities in this time of need."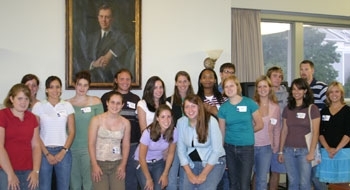 Nine visiting students and their Middlebury student hosts
gathered for dinner in Redfield Proctor on September 11.
- Middlebury College photo by Ari Joseph '05

Middlebury has provided fall-term spaces to eight students currently enrolled at Tulane University and one who attends Dillard University. While Tulane and Dillard are located in New Orleans, the students themselves are from Vermont, Massachusetts, New York, Maryland, Tennessee, Washington, D.C., and Pennsylvania. By offering a quick-response application process for students in four-year programs in the liberal arts and sciences, the college was able to create a relatively streamlined start to the year. After an orientation session on Sunday, Sept. 11, the new students-two first-years, three sophomores and four juniors?began classes with the rest of the student body on Sept. 12.
Middlebury will not charge these students to attend the college. Middlebury is asking instead that the students pay their home institution the fees that they would normally be charged to help Tulane and Dillard in the recovery process. If students have not yet paid their schools, Middlebury will work with them to help them make the fees available to their home institutions.
According to Dean of Student Affairs Ann Hanson, Middlebury recognizes the challenges students face in changing schools on short notice and under such difficult circumstances, and is eager to assist in every way possible. The students, who will receive room and board, will be registered as visiting students with the expectation that they will return to their current schools in the spring term. While they are at Middlebury, though, Hanson will serve as their academic advisor and each of them was assigned a student host when they arrived on campus. Hanson noted that more than 200 students had volunteered to serve as hosts, and many had offered to double up in their single rooms to make space for the visiting students.
"The outpouring of support from our student body has been tremendous," said Hanson. "We are all proud and pleased to offer some sense of normalcy for these students in this overwhelming time of upheaval and loss."
Middlebury College has responded to the general relief effort as well as to the needs of displaced university students. Middlebury faculty, staff and students who have visited a special hurricane relief page at the Chaplain's Office site have registered their donations to such organizations as the Red Cross, and so far have contributed more than $16,000. Faculty and staff also responded to the call from Vermont Governor Jim Douglas '72 for supplies for the hurricane victims by bringing large quantities of such items as toiletries and bottled water to nearby designated supply areas.
"Multiple student groups have stepped forward with ideas to aid the relief effort and we expect to have a better idea by the end of the week as to which of them will take place," said Gus Jordan, director of the Charles P. Scott Center for Spiritual and Religious Life at Middlebury.
In addition, Middlebury has created a special Katrina Relief Program that will make it possible for Middlebury employees to pursue volunteer work in the Gulf Coast region for up to four weeks, while maintaining their benefits and receiving half of their salary.
— end —