Michael McKenna named vice president for communications at Middlebury
New VP to be at the College fulltime in November
MIDDLEBURY, Vt. - Michael McKenna, previously CEO, president and chief creative officer at Marsteller, a global advertising, design, interactive and production agency based in New York City, has been named vice president for communications at Middlebury College. The announcement came from President Ronald D. Liebowitz.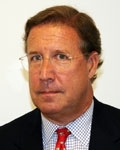 Michael McKenna, Middlebury's new vice president for communications
McKenna began his career in higher education, working in admissions at the College of the Holy Cross in Worcester, Mass., and then as assistant director of alumni relations and development at his alma mater, Wesleyan University in Middletown, Conn. After a brief stint as a reporter for United Press International, he began a career in corporate communications that included stops at The Gillette Co. and BBDO in Boston, and then Young & Rubicam, Citigate and Marsteller, all in New York.
"Middlebury is extremely fortunate to have someone with Mike McKenna's broad experience joining us as we set out to better inform the world of Middlebury's strengths, contributions, and dynamism," said President Liebowitz. "He takes charge of a staff of talented professionals who already produce some of the best communications materials in higher education, both in print and online. They, and we, are looking forward to having Mike's guidance as the College refines its communications with its many audiences, from members of the Middlebury community to the wider world."
"I am excited about the opportunity to help tell Middlebury's story, and to help the institution do a better job at getting the word out about its world-class academic programs," McKenna said. "And I'm proud and honored to join this first-rate team."
McKenna was hired after a nationwide search lasting several months. He will begin work fulltime for the College in November.
A 1973 graduate of Wesleyan, where he majored in English, was a varsity athlete, and an editor of the student newspaper, McKenna went on to earn a master's degree in journalism from Boston University in 1978.
For the past three years, McKenna has been a Wesleyan trustee, serving as vice chair of the university relations subcommittee and a member of the facilities planning subcommittee.
McKenna and his wife, Lynn, a graphic designer, have two children: daughter Lee is a senior at Taft School in Connecticut, and son Jake, a recent graduate of Harvard College, currently works and lives in San Francisco.