Young German star violinist Julia Fischer returns to Middlebury College as part of a trio, Oct. 30

**CONCERT UPDATE**
Due to visa issues, the cellist of the piano trio that was to play for the following Performing Arts Series on Sunday, October 30th, cannot appear. Violinist Julia Fischer, who has just finished a praised appearance with the Boston Symphony Orchestra, and pianist Milana Chernyavska will play a recital as a duo. The program will consist of J.S. Bach's Solo Partita for Violin in D Minor, BWV 1004 (which concludes with the great Chaconne); and sonatas for violin and piano by Robert Schumann and Cesar Franck.
MIDDLEBURY, Vt. - Two years ago, 20-year-old German violinist Julia Fischer made her debut recital at Middlebury College, offering an exciting glimpse of a fresh, rising talent in the classical music world. On Sunday, Oct. 30, at 3 p.m., Fischer returns to Middlebury for an ensemble concert in the Center for the Arts Concert Hall.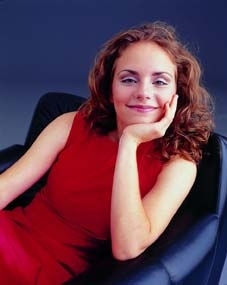 German violinist Julia Fischer
For this performance, Fischer is joined by award-winning German-Japanese cellist Danjulo Ishizaka, who was the first recipient of the Grand Prix Emanuel Feuermann, in honor of the 100th anniversary of the birth of the legendary cellist. Ishizaka's concert tours include recital and chamber music performances around the world with a variety of orchestras. He records on the Sony Classical label.
The ensemble's pianist is Ukrainian-born Milana Chernyavska, who performs both as a soloist, a chamber musician, and with a variety of orchestras, including the Munich Chamber and Ukrainian National Symphonic Orchestras. Chernyavska has produced chamber and solo recordings and has taught at Munich's Academy for Music and Theatre.
The program for the afternoon concert includes Beethoven's Piano Trio no. 1, E-flat Major, opus 1/1; Mendelssohn's Piano Trio no. 1, D Minor, opus 49; and Shostakovich's Piano Trio no. 2, E minor, opus 67.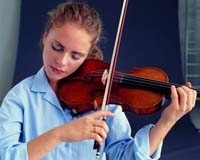 Julia Fischer
Fischer brings true star power to this concert. She debuted on the German music scene in the late 1990s and captured international acclaim soon afterward. A student of violin and piano since age 4, Fisher formally trained at the Leopold Mozart Conservatory in Augsburg and at age 9 entered the Munich Academy of Music.
Fischer has performed on concert stages around the world and her recordings have enjoyed both brisk sales and rave reviews. Her United States performances include appearances with the New York Philharmonic, the San Francisco Symphony and orchestras in Detroit, Baltimore and Philadelphia. She has played at New York's Mostly Mozart Festival, London's Wigmore Hall and with orchestras in Paris, St. Petersburg, Vancouver and Rotterdam.
Earlier this year, the Philadelphia Inquirer said Fischer's stage presence demonstrated that she is "one of the most controlled violinists around … Her technique is flawless and she has a wonderful sound." Musicweb International this spring called Fischer "one of the most remarkable players of her generation."
Last month, Fischer released her first Mozart recording, a collection of violin concertos with the Netherlands Chamber Orchestra on Pentatone Classics. In a review, The Sunday Telegraph called the disc "elegant and stylish." Her attention to detail combined with spontaneity "gives the music sparkle and wit," the reviewer wrote.
Audiences notice and appreciate such elegance. This past summer, a concert reviewer for the Greensboro (N.C.) News & Record wrote: "Violinist Julia Fischer swallowed Tchaikovsky's violin concerto whole. … Her lyrical sections were painfully beautiful, not only because of her phrasing and musicianship, but also because of her slow tempos and dramatic use of silence, qualities not always apparent among virtuosos; as a result, her music had a spiritual quality that drew an unusually hushed silence from the audience. Standing ovations prompted her to perform two encores."
The trio's performance is sponsored by the Middlebury College Performing Arts Series. The Middlebury College Center for the Arts is on South Main Street (Route 30). Reserved seating tickets are $12 for general admission and $10 for seniors. A pre-performance brunch begins at 1:30 p.m. at Rehearsals Cafe in the Center for the Arts. Reservations are required. For tickets or brunch reservations, contact the Middlebury College Box Office at 802-443-6433. Online tickets and information are available at www.middlebury.edu/arts.