Summer blogs bring Argentina to Middlebury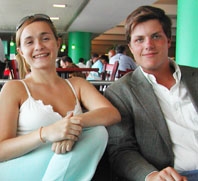 MIDDLEBURY, Vt.-During the summer of 2005, sophomores Theo May and Ashley Valle traveled to Argentina with Middlebury College Assistant Professor of Writing Héctor Vila to intern with two nonprofits based in Buenos Aires, the Asociación Mutual Israelita Argentina (AMIA), which is the center for the Jewish Diaspora in Latin America; and Centro de Estudios Legales y Sociales (CELS), a civil rights group that has received high honors from Human Rights Watch.  As interns, the students solidified a relationship initiated by Vila in March 2005 between the South American organizations and the Middlebury College community.  While interning in Argentina, May and Valle recorded their experiences through interactive Web journals called "blogs," creating a distance-learning venue for others.
May and Valle's interest in the service-learning project grew out of Vila's 2004 fall seminar course for first-year students, "Future Communities: Technology and Social Revolution," a seminar that explored the impact of technology on community organizations and encouraged students to become personally involved in the nonprofit sector.  The two students, both international studies majors and fluent in Spanish, chose to study with groups that share their respective interests and concerns.
Vila's public service efforts helping humanitarian endeavors in Latin America to develop information technology started a relationship with AMIA, CELS and a third Argentine nonprofit, the Fundación Evolución, whose mission is to use technology to promote interaction between young people in educational communities around the world.  The organization partners with the Oxford-based World Education Corps (WEC), which offers interns the chance to pursue master's degrees in service-learning and international development at Oxford after a year of service with WEC.  Vila's success teaching internet tools and blogging techniques to Fundación has extended its global outreach, established an ongoing rapport, and opened internship opportunities for the Middlebury students.
To formalize their plans to work with the nonprofits, May, Valle and Vila put together a proposal in April 2005 titled "Future Communities: NGOs, Social Revolution, and Evolving  Communities in  Argentina," and applied for a Middlebury College Academic Outreach Endowment Service-Learning Grant.  The grant, awarded annually to individuals seeking to combine in-class learning with civic engagement, made the Argentina trip possible, giving the students real-world experience of the nonprofit sector there, and the communities it serves.
While in Argentina, they lived in the family-oriented neighborhood of La Recoléta, located between the British Embassy and the National Cemetery in Buenos Aires, walking or taking the bus to work where May and Valle interviewed members of their organizations and maintained their daily blogs.
May interned with AMIA to promote the emergence of a thriving and sustainable Jewish community in Argentina. "Working with AMIA allowed me to learn more about the political and religious oppression at the root of the Jewish Diaspora," he said. "Through AMIA, I was able to gather invaluable information from members of the Jewish Diaspora who had faced bigotry and violence, which gave me a new insight into the relationship between religious and political oppression."
Valle worked with CELS to promote and protect the human rights of the poorest segments of Argentine society. "I wanted to see how a society coming out of military dictatorship develops socially responsible programs that benefit the poor," she said. "By working with CELS, I gained a deeper understanding of the socioeconomic disparities in Argentina and the rest of Latin America."
Vila has continued working with the Fundación Evolución, helping them develop a blog called "A Toda Fe," meaning "with all faith," which will serve as an electronic newsletter.  He plans to continue to use his interaction between the nonprofits and Middlebury as the basis for future classes in social consciousness and education.  He will incorporate May and Valle's blog journals as an educational tool, continuing to offer through them an interactive link sharing the organizations' goals and activities and providing a dynamic resource for furthering the understanding of problems in Latin America.
"It is clear that what grew out of our seminar is a model of what can actually happen in the future, a model of a new kind of liberal arts education that has the notion of developing world citizens at its core," he said.
Both Valle and May expect to participate in Middlebury College's study abroad program next year.  Valle plans to return to Latin America to spend a year with human rights groups in both Argentina and Brazil, while May will examine oppression of both the Jewish and Muslim Diasporas in the Middle East.  While abroad, the students hope to pursue projects that connect foreign nongovernmental organizations with the Middlebury College community.  "We want to provide an example of how traveling abroad and service-learning can be combined, as well as encourage other students to continue with similar projects in the future," said Valle.
— end —