Carrie Bryant spearheads fight against multiple sclerosis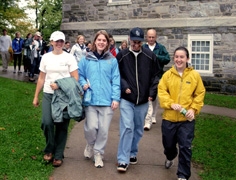 MIDDLEBURY, VT.-A typical college student's life is fraught with academic demands and deadlines, and spare time for extracurricular good deeds is precious. Although spare time for Carrie Bryant is just as precious, she is no typical student.
Last October, the Middlebury College sophomore organized Carrie's Walk to Cure MS, an event that raised more than $71,000 for the Accelerated Cure Project for Multiple Sclerosis (ACP), a national nonprofit organization dedicated to fighting multiple sclerosis (MS). Bryant spearheaded the event in commemoration of the one-year anniversary of her own diagnosis with MS, a degenerative disease of the central nervous system that delayed her initial entry into college for a full term.
The student committe for Carrie's Walk to Cure Ms included, from left to right, Kate Bachman, Emily Nelson, Carrie Bryant, Sarah McCague and Kevin Tierney.
Photo courtesy of ACP.
Originally scheduled for matriculation in fall 2004, Bryant began brainstorming for the event immediately upon her arrival at the Vermont campus for the spring term in 2005. "After my diagnosis, I knew I had to do something," she said, "so, I started as soon as I got here to work with the college community to get a fundraiser off the ground."
Once she had secured a time and location on campus, enlisted the support of college officials and recruited a committee of four other student volunteers, Bryant approached ACP Event Coordinator Sarah Nels, who agreed to endorse Bryant's goal of raising $50,000 for MS research. "Carrie's Walk to Cure MS blew away our expectations, topping $71,000," said ACP President and CEO Art Mellor, who is also the organization's co-founder and director. "That more than doubles ACP's fundraising record for any single event."
Throughout the 2005 summer, Bryant stayed in touch with the ACP professionals and Middlebury College volunteers, ushering her project through a five-month planning process. She and her student committee members-Middlebury College sophomores Kate Bachman and Kevin Tierney, junior Emily Nelson and senior Sarah McCague-diligently worked their way through the legal steps required for the walk, including coordinating with campus security and the local police, and obtaining all appropriate permits. To solicit corporate sponsorships and in-kind donations, Bryant assembled and mailed out promotional packets, and followed up with numerous phone calls that ultimately secured 10 corporate sponsors. She also created and distributed publicity posters for the Middlebury community to attract walkers to the event, and arranged for "Carrie's Walk to Cure MS" T-shirts and free meals for more than 60 walkers and other volunteers. "Carrie kept all of us motivated and on track," said Nels.
According to Middlebury College Wonnacott Commons Dean Matt Longman, Bryant and the walk make a stellar example of student initiative and student support. "Those who have come to know Carrie want to support her in any initiative, and she really leads by example," said Longman, who volunteered for Bryant's event as liaison between the college and ACP. "She has that human quality, a certain charisma that really draws people to her cause."
The walk consisted of a course more than four miles long that wended around the campus and through the rural Vermont town of Middlebury-a challenging walk considering the bleak conditions of the heavily rainy October day. The event's indoor picnic was graced by the Bobolinks, a student group of a capella singers, and included sandwiches, flat bread pizza and ice cream donated by local businesses. During the picnic, awards were presented to teams and individuals raising the most money, and raffle prizes were distributed to winning ticket-holders. Bryant donated some of her own treasured possessions for the event's raffle, including her NFL jersey signed by New England Patriots quarterback Tom Brady.
MS is a chronic disorder of the central nervous system that often results in severe disability, including blindness, cognitive dysfunction, extreme fatigue, the loss of the ability to walk and other serious symptoms. The disease affects more than 400,000 people in the United States and 2 million individuals worldwide. Its cause is not known, and there is no known cure. Bryant's daily struggle includes fatigue, an inflammation of her optic nerve that impairs vision, leg numbness and a burning pain on the bottom of her feet.
"What was most remarkable about the event was that while leading this effort, Carrie took summer classes at Wellesley College, attended fall classes at Middlebury College, and took mid-terms on the week of the walk, all while dealing with MS," said Nels. "We knew right away that this was a very special young woman."
According to Bryant, it was a lot more work than she expected. "I probably should have gone in asking more questions," she said, "but it was therapeutic. On bad days, when I just felt like 'I hate this MS,' I could throw myself into this project. It was something I could control, and a successful step aiding MS research."
Bryant, a classics major, plans to continue studies after graduating from Middlebury College, and enter medical school.
—end—