Middlebury College students showcase computerized LEGO robots Jan. 30
MIDDLEBURY, Vt. - On Monday, Jan. 30, the lobby of Middlebury College's McCardell Bicentennial Hall may look like it has been taken over by robots, but actually it is just the culmination of a lot of hard work - and some play - with LEGOs. From 2-5 p.m., Visiting Assistant Professor of Computer Science Jeff Parker and the students from his winter term course, "LEGO Robot Design Studio," will showcase the results of their studies.
Parker's course is part of Middlebury's winter term - a month-long academic break between the more conventional fall and spring terms in which students choose just one course of study, often unrelated to their major. In his course, Parker says, "Students have the opportunity to design, build, and program small, mobile robots using LEGO pieces, tiny onboard computers, and a variety of sensors and actuators." The class relies on important concepts from computer science, such as structured programming, abstraction, reasoning under uncertainty, real-time control and elementary robotics, while also engaging disciplines such as creative design, mechanics, and electronics. "The grand finale of the course," says Parker, "is our light-hearted robot talent show featuring the robots created by each team of two or three students."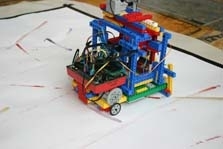 Van Gogh Bot
Parker encourages parents to bring children of all ages to enjoy the lively event. Last year's show included a host of whimsical creations; "Van Gogh Bot" delighted the audience by painting a five by three-foot masterpiece, "Johann Sebastian Bot" charmed the crowd, naturally, by playing the piano, and "Rasputin the Love Machine" mingled and flirted by raising a plastic heart to passersby.