A capella group Womensing to perform free concert March 11
MIDDLEBURY, Vt. ? Womensing, a six-member a cappella group based in Addison County, will perform music from a variety of world folk traditions on Saturday, March 11, at 7:30 p.m., at the Middlebury College Mead Chapel, located on Hepburn Road off College Street (Route 125). The concert is free and open to the public.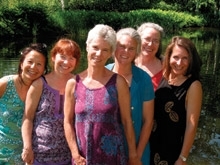 Local a capella group Womensing
The group's unusual repertoire includes Balkan, Arabic and Chinese folk songs, French-Canadian call-and-response tunes,
and South African freedom chants. Established in 1995, the group has performed at the Champlain Valley Folk Festival, the Vermont International Festival, Burlington's First Night, the Middlebury Festival on the Green, and at numerous coffee houses, music series, and community outreach events.
Womensing just released their second CD, "Down the Road." The group released its first CD, "Womensing," in 2002.
The concert is sponsored by several Middlebury College offices and organizations: Brainerd Commons, Atwater Commons, Wonnacott Commons and the Charles P. Scott Center for Spiritual and Religious Life.
For more information, contact Womensing member Anna Sun of the Middlebury College Chinese and Japanese Schools at sun@middlebury.edu