'Make Levees, Not War' - Students face harsh realities in post-Katrina New Orleans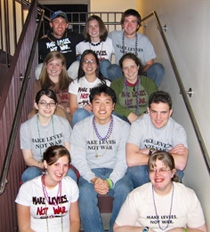 MIDDLEBURY, Vt. — Twelve Middlebury College students spent the week of Jan. 21-28 gutting flood-damaged houses with the Common Ground Collective, a grassroots relief effort creating islands of hope in New Orleans' devastated communities.  For three weeks prior to the trip, the students and a Middlebury staff member studied with Associate Professor of American Literature and Civilization Will Nash during the college's month-long winter term. They examined the history, culture, politics, economics and environmental aspects of the stricken city. During the fourth week of the academic course, titled "Katrina and  Its Aftermath," the group traveled with Nash to get down to work. Up at dawn each day of their trip, the volunteers toiled together until dusk. They unloaded supply trucks at a relief distribution center and built its access driveway. They hauled debris and cut brush. Wearing full protective gear and breathing apparatus to ward off toxins, the crew shoveled muck out of four family homes in the city's 9th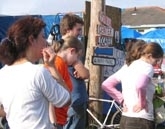 At the Common Ground morning meeting, the crew awaits work assignments.
Photo by Josh Chan
Ward and St. Bernard's Parish. They ripped out sodden, mold-furred couches, tables, dishes, mattresses, clothing, toys, carpeting, toilets, refrigerators, walls, ceilings, lighting fixtures - in short, the students gutted everything down to the bare beams in preparation for detoxification.
The group's energetic support gave the families who had lived in the four houses at the time of the catastrophe a big start toward pulling their lives back together in what appeared to be forsaken communities.  The students saw their effort as a tiny dent in a wasteland of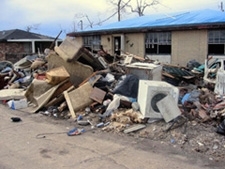 Four family homes in the 9th Ward and St. Bernard's Parish were gutted to the bare beams.
Photo by Josh Chan
hurricane and levee breaks, but, for the people they had helped, it was a payload of hope that altered Katrina's bleak legacy. "You all are blessed, you know that," said one of the homeowners who worked alongside the students to salvage her property.
Staying as guests in homes across the city, the Middlebury volunteers were picked up each morning by Alfred Cooper, a resident of adjacent Jefferson Parish who had returned to New Orleans after his flight during the storm. He drove them to their work sites and home again to their host families at each day's end. "I wish for many blessings bestowed upon you," Cooper said in an e-mail to the group after they had returned to the Middlebury campus. "Be blessed!"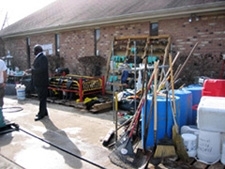 Alfred Cooper talks with the students while they scrub down their gear and tools contaminated at the day's work site.
Photo by Josh Chan
According to one student, the trip changed the group's whole perspective of the disaster. "When we first began class in Middlebury, I thought I understood what was going on. I saw the statistics and the pictures and had the audacity to think I grasped the urgency of the post-Katrina city. Nothing could've been further from the truth," said junior Sam Timberg of Bethesda, Md. "There is no way to appreciate the situation until you drive for 15 miles through residential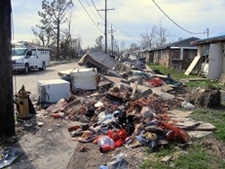 Debris scraped together by the students from within one of the homes adds to an ever-growing pile awaiting eventual pick up and disposal.
Photo by Josh Chan
neighborhoods and not see a single undamaged house. No statistic can pull on all five of your senses like walking into a home, feeling the floor boards squish under your feet, the mold overpowering your nose, and seeing unrecognizable family photos caked in mud , finding no semblance under the blue-tarped roof of the lives that took place there five months ago." For Timberg, that was the difference - while in Vermont, everything was theoretical when discussing the future of the city. "After visiting, it was stunningly clear that trying to meet some of the immediate needs down there should be our first course of action," he said.
Sam takes a moment to rest and reflect.
Photo by Josh Chan
While in the city, Nash, Timberg and Middlebury staff member Sandy Tucker, together with seniors Sarah Applebaum, Daniel Berkman, Emily Egginton, Katherine Hawkins, and Rachel Sommer, juniors Lindsay Oliver, Amanda Tavel, sophomores Joshua Chan, Kristin Smith, Ward Wolff, and first-year student Alexandra Braunstein met with three other Middlebury students to share their experiences. Two of the three are New Orleans residents, home during January in support of their families: juniors Matthew Amoss and Katherine Voelker. Together, their two families hosted five of the Middlebury volunteers. Sophomore Jennifer Leigh Williams, who has volunteered in New Orleans' 9th Ward for more than two months, met with the students to talk about social justice and her experiences as a relief worker. Williams plans to volunteer in the city until June 2006.
Flood lines streak across a car and garage door. Codes for search teams were spray-painted on buildings and vehicles all over the city to communicate what had or had not been found within.
Photo by Josh Chan
The Middlebury group also met with New Orleans' Times-Picayune editor Jim Amoss, Matthew Amoss' uncle.  He had visited Middlebury in October 2005, invited by the college's Hurricane Relief Coalition to speak about his newspaper's struggles during and after the disaster.
"There have been times since Hurricane Katrina struck that New Orleans has felt abandoned by the rest of the nation. It requires living among us to understand the magnitude of what has happened to one of America's treasured cities," said Amoss after the students' trip. "The Middlebury College students who gave their time, their energies and, most importantly, their undivided attention to our plight helped boost our spirits. I know they'll spread the news of the scope of this disaster and what needs to be done to help revive New Orleans."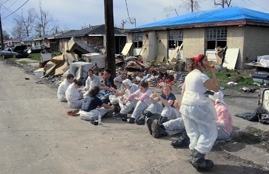 Amanda, far right, and the Tyvek-suited crew stop for a quick lunch.
Photo by Josh Chan
The opportunity to work with the Common Ground Collective was spearheaded by Dan Berkman, who had joined his parents to travel to New Orleans last December to volunteer with the organization. Wearing a "Make Levees, Not War" t-shirt, Berkman said: "In just one month, I saw major changes in the size of Common Ground. For instance, the distribution center was much bigger, and the house I'd gutted with my father has been turned into a health center."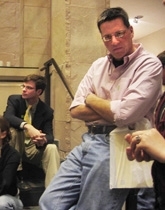 Matt (left) and Will wait for the others.
Photo by Josh Chan
On Friday, Jan. 27, the group attended a meeting of the Bring Back New Orleans Commission, which was appointed by the mayor of the city, C. Ray Nagin. The commission presented its economic redevelopment report, stating four overarching needs: secure the infrastructure of the city; jumpstart the economy; establish a business-friendly environment; and maintain sound fiscal management structures to maximize the impact of aid dollars.
In New Orleans, Sarah Applebaum stayed with her family along with three other students. "The future of the levee system is a key issue for many residents who want to return home and help rebuild their city, but feel it's impossible without improved, adequate protection,"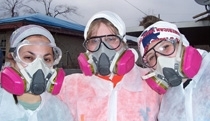 Sarah (left), Lindsay and Alex suit up.
Photo by Josh Chan
said Applebaum, an English major at Middlebury. "The news reported last November by the team of engineers who studied the levee failures was devastating and infuriating. The very system that was supposed to protect us failed because of human error and lack of attention."
"I wish everyone who thinks media coverage of Katrina is getting repetitive would go down there," added Timberg, an environmental studies major. "Imagine walking into your home and seeing every single thing destroyed, having to throw all your things out onto the sidewalk. Imagine ripping up your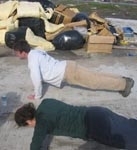 Dan and Katie do warm-ups.
Photo by Josh Chan
floors, stripping every wall and ceiling down to the studs. Imagine being in New Orleans where well over 200,000 families have to live with these images everyday, and the knowledge that 3,000 people are still unaccounted for. There are people who can't find their families to make sure they're still alive. Now, imagine not helping out. If we were in the shoes of our friends in New Orleans, we would surely welcome any help."
Emily Egginton, an environmental studies major, and Katie Hawkins, a joint major in geology and environmental studies, did not return to Middlebury with the rest of the class. Instead, they stayed in New Orleans to continue relief work during their February break before coming back to campus for the spring semester. In the Bayou St. John neighborhood, Egginton and fellow volunteers started an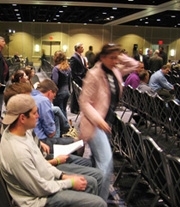 The group listened to the Bring Back New Orleans Commission. Dan (left), Will and Sandy find seats.
Photo by Josh Chan
organic garden, and gutted a family home.  They also worked at Eleanor McMain High School - the first public high school in Orleans Parish to open since Katrina - and at Good Shepard's, a Jesuit elementary school. "We did everything from serve lunch to teach lessons," said Egginton.
Amanda Tavel, another member of the team, videotaped the students' experiences and provided her tape to Vermont's WCAX-TV for a news story about the trip. A film video major, Tavel plans to edit the three hours of footage into a documentary film.
Before leaving for New Orleans, Nash invited five Middlebury faculty to talk to the class. Associate professor of history Bill Hart gave an overview history of the city. "Will's course bridged the intellectual work of the classroom with hands-on learning in the field," said Hart. "As participatory observers in flood-ravaged New Orleans, they lived with and worked beside the
After the Bring Back New Orleans Commission meeting, Josh took a well-deserved time out.
Photo by Lindsay Oliver
people there, and received an intimate understanding of how such forces as race, class, music, politics and leisure have informed life in the region, both pre- and post-Katrina."
Other guest faculty included assistant professor of music Larry Hamberlin with a lecture titled "The Origins of Jazz in New Orleans." Assistant professor of environmental studies and chemistry/biochemistry, Molly Costanza-Robinson, and associate professor of geology Peter Ryan gave a joint presentation on the environmental impact, and assistant professor of geography Peter Nelson gave a lecture titled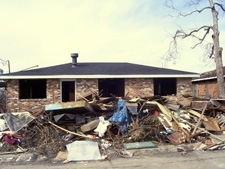 Another of the homes the crew gutted is fronted by a berm of trash.
Photo by Josh Chan
"Race and Urban Development in New Orleans."  "Both natural and human forces combined to create the Katrina disaster," said Nelson. "Geographies of segregation layered on top of the economics of land development push certain populations into risk-prone areas, and these processes of marginalization are not unique to today.  Rather, they have a long historical evolution within New Orleans. So, understanding Katrina requires a synthesis of geography, history and economics alongside geology and atmospheric sciences."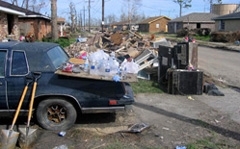 Vehicles ruined by Katrina still blanket the city. One left in the driveway serves as a table for the students' bottled water.
Photo by Josh Chan
According to Berkman, a geology major, the damage inflicted by the levee breaches should be likened to a war zone, a man-made disaster that could and should have been averted. He feels that America's leadership must assure the city protection from the onslaught of the next hurricane season.  "My classmates and I have a new motto," he said. " 'Make Levees, Not War."
Back in Vermont, the class reconvened at Nash's house on Jan. 31 for the State of the Union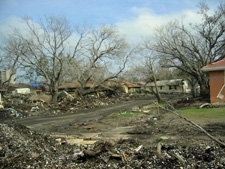 Neighborhoods are still burdened with wreckage from the disaster.
Photo by Josh Chan
Address. "President Bush talked 36 minutes on foreign policy, but said six sentences about Hurricane Katrina," said Berkman. "Not only were the levees inadequate to withstand a Category 3 hurricane, they are also still in ruin - and the next hurricane season is less than five months away. The Army Corps of Engineers' levee projects over the last few years has seen federal money trickle down to nothing due to pressures of the Iraq War and Homeland Security. That's the same Army Corps of Engineers who promised New Orleans levees and floodwalls sufficient to withstand a Category 3 hurricane."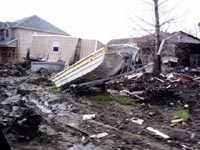 Propelled by floodwaters, a boat rests far from its dock.
Photo by Lindsay Oliver
Nash explained that the group had been extremely disheartened by the State of the Union address. "For those of us who went down together and saw what we saw, it's hard to imagine not acting quickly and decisively to provide the resources necessary to help people affected by Katrina," he said. "Before we went to New Orleans, I advised the students that this would make activists of them - not with any particular political affiliation, but on a fundamental level, a human level. I'm happy that's proving true because what we all know in the wake of this trip is that these human problems from the storm of suffering and need are everyone's responsibility."
Ward Wolff, an English major, feels the class addressed an important American issue, and allowed him to actually become a part of the material studied. "Once the class started and all the different lecturers came, I began to form an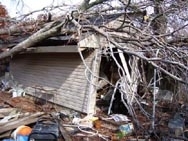 A downed tree buries a building amid scattered possessions.
Photo by Lindsay Oliver
understanding of what devastating cracks Katrina and its aftermath had exposed in New Orleans, and all American cities.  But nothing could prepare me for hitting the pavement in the middle of a devastated block, standing next to heaps of moldy refuse and overturned cars, and looking off in the distance to more of the same," said Wolff, who plans to return to relief work in New Orleans during spring break.  "We got our hands dirty.  We got to know the problem on a very personal level, and quickly felt the need to be part of the solution."
"I'm glad the government will consider more money for compensation," said neuroscience major Lindsay Oliver of the president's recent support for additional funding for Louisiana. "It took too long, though. Federal assistance for such a catastrophic American disaster should be automatic and immediate."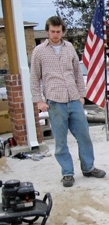 In between shifts, Ward considers the next step.
Photo by Josh Chan
Wolff described the city, and the country's support of it, as still in the early relief stages.  "Something is wrong, and we have to help. Many people still need food and water, and are struggling to find shelter. Bodies have been left unclaimed. People are just beginning to return to their neighborhoods to assess the damage. Five months plus, and things are still desperate. One of the most important lessons of this trip is to bring that city back with us and tell everyone what we did, what we saw. Get them to make a place in their hearts for New Orleans," he said.
Wolff and the other students feel that while most Americans cannot easily put their own lives aside to volunteer in New Orleans, they can still find ways to support the city's recovery. "The greatest service we can do for the city is to be as educated as possible about what is happening down there, and realize that its problems are the United States' problems," Wolff said. "The opportunities presented for reconstruction are for the country and the world to embrace."
—end—