Middlebury College to show Hollywood film about a boy and his cheetah, capturing the African childhood of senior Alexander Hopcraft, Feb. 16
MIDDLEBURY, Vt. - Growing up on his family's 20,000-acre game ranch in Kenya, Middlebury College senior Alexander Hopcraft, known as Xan, shared his days with a plethora of zebra, giraffe, impala and eland, among other native wildlife. But it is the lifelong bond he formed with one animal in particular - a cheetah - that has become the focus of the recently released Hollywood movie "Duma." Middlebury College will offer a free screening of the film at 7 p.m. on Thursday, Feb. 16, in Dana Auditorium in Sunderland Language Center on College Street (Rte. 125).
"Dooms was already a few years old by the time I was born," said Hopcraft, recalling the family's pet cheetah that he came to love and later write about in his book, "How It Was With Dooms: A True Story from Africa," from which the movie is adapted. Duma, named for the Swahili word for cheetah, was abandoned in the African bush as a small cub and adopted into the Hopcraft family when he was no bigger than a kitten. He grew to be a regular member of the family and a longtime companion to young Xan. "I was never scared of Dooms," said Hopcraft, "though there were times when he looked at me and seemed to be considering what a tasty little morsel I would make."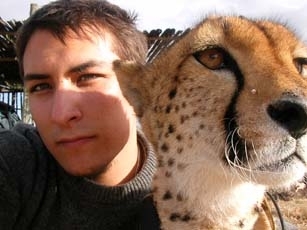 For more information, contact the Middlebury College Center for Campus Activities and Leadership at 802-443-3100.