Old-fashioned science makes modern-day art
A unique winter term course combines disciplines
to create an exhibit of scientific history
MIDDLEBURY, Vt.-For too long, the dark enclosed storage spaces of Middlebury College's McCardell Bicentennial Hall have been home to hundreds of brass, mahogany and blown-glass scientific relics. After a recent winter term course, though, many of these historical - if a little odd-looking - instruments have found fame as the centerpiece of a well-lit exhibit titled "Beauty, Ingenuity, and Function: Rediscovering Middlebury's Philosophical Instruments." The exhibit will open officially on Tuesday, Feb. 14, at 4:30 p.m. and continue through June 5 in the Special Collections area of the Middlebury College Library on Storrs Avenue off South Main Street (Route 30).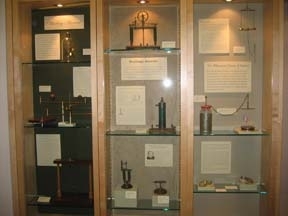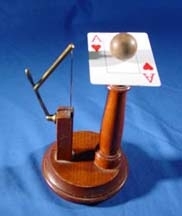 This instrument can still be used today to illustrate inertia
During the course, Pohlman and Winkler actively engaged the students in sorting and cataloguing the instruments so they could then develop and curate an exhibit exploring the role these artifacts played in the context of their times.
"This year marks the 200th anniversary of science at Middlebury College," said Winkler. "In 1806, the college appointed Frederick Hall as the first professor of mathematics and natural philosophy. The instruments that Hall and his successors acquired provide a window into Middlebury's history as well as the role of science in the 19th century."
For more information about the exhibit, contact the Middlebury College Library's Special Collections Office at (802) 443-5501.