Performance by Claudia Stevens: "Dreadful Sorry Guys"
Event Calendar Listing
Performance by Claudia Stevens: "Dreadful Sorry Guys"

Wednesday, Feb. 22
7 p.m.
McCullough Student Center
Free Admission

Performance artist Claudia Stevens draws on her background as a concert pianist, actress and classical vocalist to create a one-person musical theater event titled "Dreadful Sorry Guys." Through a combination of performance modes, she produces riveting theater and memorable stories.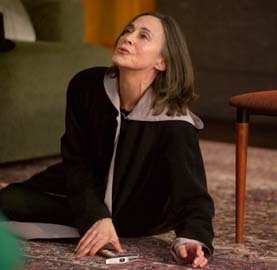 Claudia Stevens performing "Dreadful Sorry Guys"
Stevens, a professor of piano at the College of William and Mary, was motivated to create this performance by the murder of her gay friend, Gary Matson, and his partner, Winfield Mowder, in 1999 near Redding, California. The hate crime was perpetrated by members of the World Church of the Creator.
In addition to exploring this event, the performance looks at the universal human impulse to destroy those who are different and the attempt to make amends afterwards, expressing collective guilt when it is too late. It speaks also to the emptiness and loneliness of a world without diversity.
Sponsored by the Women's and Gender Studies Program/Chellis House, the Scott Center for Spiritual and Religious Life, the Chaplain's Office, Hillel, the Office for Institutional Diversity, the Sociology/Anthropology Department, Cook Commons, and Middlebury Open Queer Alliance (MOQA).
For more information, contact Karin Hanta at (802) 443-5937 or khanta@middlebury.edu.