Middlebury announces a new service leadership award in honor of alumna Dana Morosini Reeve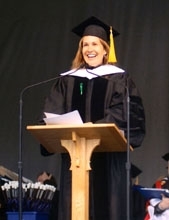 Dana Morosini Reeve and her husband Christopher Reeve gave the commencement address during Middlebury's graduation ceremonies in May 2004. Photo by Michael Sipe
MIDDLEBURY, Vt.-In honor of a life dedicated to caring for others and activism on their behalf, Middlebury College announced today the creation of a new student leadership award named for alumna Dana Morosini Reeve, a member of the Middlebury class of 1984 who died on March 6, 2006. The annual award will be presented during the college's public service leadership award dinner, held this year on April 11, when dozens of students will be recognized for their community service.
The Dana Morosini Reeve '84 Memorial Public Service Award will be given to the Middlebury College student who best exemplifies Reeve's spirit and determination while she cared for her husband, actor Christopher Reeve, and while she worked as an advocate, through the Christopher Reeve Foundation, for all those with spinal cord injuries. A $300 donation will be made by the college on behalf of the award-winning student to a nonprofit service organization designated by that student.
Dana Reeve, who was an English major at Middlebury, and her husband gave the commencement address at Middlebury in May 2004. "The courage and determination of Dana Morosini Reeve and her husband Christopher Reeve inspired our entire college community," said Middlebury College President Ronald D. Liebowitz. "During Middlebury's 2004 commencement ceremony, Dana told the graduating class, 'Some choices will choose you. How you face these choices, these turns in the road, with what kind of attitude, more than the choices themselves, is what will define the context of your life.' Dana will be long remembered for the energy, intelligence, and compassion with which she faced her choices, the turns in the road that confronted her. I'm pleased that Middlebury has initiated this new award to tangibly represent to our students her inspiring work."
Following her graduation from Middlebury, Reeve worked as an actress and a singer, but put her own career largely on hold after her husband was paralyzed in a horse-riding accident in
1995. They later co-founded the Christopher Reeve Foundation. Christopher Reeve died in October 2004, but Dana Reeve continued her work as chair of the foundation and as a tireless advocate for spinal cord research. In August 2005, just 10 months after her husband's death, Dana Reeve discovered she had lung cancer, though she had never smoked. She died from the disease on March 6 at the Memorial Sloan Kettering Cancer Center in New York.
"To recognize Dana with this award is a great way to honor her passion and the encouragement she so generously gave," said Tiffany Nourse Sargent, director of Middlebury College's Alliance for Civic Engagement and the public service leadership award program.