Middlebury College names David Dorman recipient of the Perkins Award for Excellence in Teaching
Ceremony and reception to be held Tuesday, March 14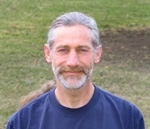 Professor of Mathematics David Dorman receives Perkins Award
MIDDLEBURY, Vt.-Middlebury College has named Professor of Mathematics David Dorman the recipient of the 2006 Perkins Award for Excellence in Teaching. The award honors outstanding teaching performance in science and mathematics. A ceremony and reception will be held in his honor on Tuesday, March 14, at 5:30 p.m. in Room 202 of Warner Hall, on College Street (Route 125).
The annual award's focus is on the natural sciences. It is granted to a faculty member in the mathematics department every other year, alternating with a faculty member in one of the other five natural science departments-biology, chemistry, geology, physics and computer science. The award includes recognition on plaques in Warner Hall and McCardell Bicentennial Hall, and a grant for the support of further professional development.
Dorman earned a bachelor's degree in chemistry and mathematics from Hobart College in 1974, and worked as an environmental engineer at Walden Research in Cambridge, Mass., before embarking on graduate studies three years later. He earned his doctorate from Brown University in 1984, and immediately joined the mathematics department at Middlebury College.
His area of research is arithmetical algebraic geometry, which is a blend of number theory with algebraic geometry. Dorman's work in the area of elliptic curves and mathematical objects called "Drinfeld modules" has been nationally recognized.
While at Middlebury, Dorman has served as chair of the math department, and has taught courses on algebraic curves, algebraic number theory, complex analysis, topology and abstract algebra. He has also taught a first-year seminar titled "Modeling the Environment." Dorman serves as mentor to 11 students that make up Middlebury Posse 7-Middlebury is in its 7th year of partnership with the Posse Foundation, which identifies, recruits, and trains youth leaders from urban public high schools and sends them to top colleges and universities. Dorman is also the faculty affiliate for the men's soccer team and the men's and women's swimming and diving teams.
A potter and studio assistant at the Frog Hollow Vermont State Craft Center in Middlebury, Dorman has taught a ceramics course at Middlebury, for a first-year seminar and for winter term, titled "Trial by Fire."
The Professor Llewellyn R. Perkins and Dr. Ruth M.H. Perkins Memorial Faculty Research Fund, which provides the award, was made possible by the gift of Dr. Ruth M.H. Perkins, a 1932 Middlebury graduate, in memory of her husband, Professor Llewellyn R. Perkins. Professor Perkins taught at Middlebury College from 1914 until his retirement in 1941. During the course of his tenure at Middlebury, he founded and chaired the mathematics department. Their children, Marion Perkins Harris, a 1957 Middlebury graduate and science teacher, and Dr. David L. Perkins, a physician, augmented the fund and expanded the scope of the award to honor their mother, Ruth, as well. She was an educator in Vermont and a professor of math education at Temple University in Philadelphia.