The Orange Grove Gospel Choir returns to Middlebury College to perform during Religious Awareness Week April 8
MIDDLEBURY, Vt. - On Saturday, April 8, at 4 p.m., the Orange Grove Gospel Choir of Durham, N.C., will perform in Middlebury College's Mead Chapel under the direction of Marlon West. This appearance will be the choir's third at the college and will celebrate the conclusion of Religious Awareness Week.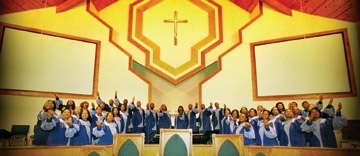 The Orange Grove Gospel Choir, from Durham, N.C.

The Orange Grove Gospel Choir is remembered best by the Middlebury College community for the comfort its members provided after the tragic deaths of four first-year students who were killed in an automobile accident in 2001. To honor the lives of Anisa Gamble, Tiffany Holmes, Iniko Johnson and Maika Prewitt, their parents established The Angels Award, given annually to a Middlebury College sophomore woman of color who embodies the spirit of the four memorialized women. This year's recipient of The Angels Award will be announced and honored during the Orange Grove Gospel Choir concert. The concert is free and open to the public, though a donation to the Angels Endowment Fund is appreciated.
Since last visiting Middlebury, the choir has performed to large audiences in and around the southeastern United States, and has made two trips to England, where they toured and performed throughout the country as well as in the famous Durham Cathedral.
For more information, contact Marichal Gentry, associate dean of the college, at wgentry@middlebury.edu or 802-443-5382.