Students ride to the rescue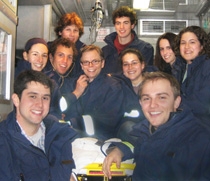 MIDDLEBURY, Vt.- As though tackling a heavy academic load isn't work enough, some Middlebury College students brave the added task each week of  riding to the rescue.
Serving with the local ambulance squad, 12 students provide transport and pre-hospital emergency care for Middlebury and nine other towns in the county. As part of the Middlebury Volunteer Ambulance Association (MVAA), the volunteers make a commitment to face daunting emergency medical situations, and their dedication to the squad permeates their daily lives. Assumptions typical to college life are not made by this group of students; plans for a good night's sleep before an early morning class, for instance, can and will often go awry.
Matt (left) and Baker
Seniors Scott Buckley, Laurie Griffin, Andy Hale, Baker Lyon, Matt Malek, Will Motley, Rachel Schiffer and Pete Wolkowski, junior Scott Schwitz and sophomore Allie Widas are veteran members of the rescue squad, and sophomore Talia Lincoln is currently training to join. Another student, sophomore Shane Spinell, who is also a firefighter with the Middlebury Fire Department, has been in training since last fall for membership and hopes to continue in the future.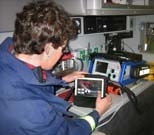 Shane is taking a look at various monitors inside the ambulance.
The MVAA responds to more than 1,600 rescue calls each year. "According to statistics from the Vermont Emergency Medical Services, our squad is the 12th busiest in the state," said MVAA Operations Supervisor Scott Supernaw.
Typically, a rescue call comprises a crew of three people-the driver, a crew chief and an attendant. As attendants, the students establish patient care and assist the chief in any given situation. An attendant must have basic training and certification as an emergency medical technician (EMT). Certification requires a training course of 180 hours and additional mandatory training specific to the squad. Volunteers-in-training, under supervision, observe and participate in emergency calls before gaining full membership on the MVAA. Some students progress to EMT-Intermediate or EMT-Paramedic levels that include greater responsibilities such as administration of certain drugs and the establishment of intravenous lines.
Rachel and Talia practice adjusting a dummy patient on a stretcher.
Buckley, Griffin, Lyon, Motley and Wolkowski are trained for heavy rescue for car accidents, operating equipment such as the device used for vehicle extrication, called "jaws of life." Schwitz, certified at the EMT-Intermediate level, is furthermore trained for intravenous therapy, and advanced airway management and assessment. Buckley, who is a firefighter in his home state of West Virginia and trained to handle hazardous materials, is also certified for low-angle rescue, and rope, ice-water and swift-water rescues.  He is working with MVAA to establish a search and rescue team for backwoods and wilderness environs.
"There are extensive hiking trails in our service area, and the MVAA has responded when hikers are injured or stranded due to hypothermia or other mishap. We're hoping to establish a search and rescue team of eight to 10 squad members from the college and town specially trained for trail calls," said Buckley, who is working on the project with MVAA medic Penny Supernaw. "Supplementary training will consist of general backcountry preparedness and awareness, and skills in wilderness medical techniques. Also, extra physical conditioning will be expected for safe and effective response in rugged terrain."
According to Buckley, the MVAA Search And Rescue (SAR) will initially work with other organizations such as Stowe Mountain Rescue to properly execute rescue missions. Ultimately as a fully functioning, independently operating team, the SAR will cover wilderness areas in the MVAA's response range, including the Long Trail, Falls of Lana, the Silver Lake area and the Trail Around Middlebury (TAM).  "When someone's reported missing, a call will be sent up the chain of command to the Vermont State Police, who will implement its search protocol, with the MVAA providing medical support. As we see it, the SAR mission will be to move when we already have a strong idea of where a patient is located, and extricate the patient from situations that require equipment or skills beyond the capabilities of the regular ambulance crew," Buckley said.
To be members of the MVAA, the student volunteers must serve a minimum of 60 hours per month. Many exceed this expectation, sometimes working as many as 20 hours per week. The students may be on call day or night, and must be prepared to respond immediately when alerted by their two-way radios. At other times, when not on call, they nevertheless carry pagers to alert them when extra crew members are needed for a rescue.
"The student volunteers are an integral part of the rescue team. We recognize our responsibility to the MVAA all year round, and do everything possible to fulfill our commitment," said Griffin, a three-year veteran of the squad who stayed in Middlebury during the past two summer breaks to serve the MVAA. "Many students choose to stay during breaks and the summer recess. The rescue team would be adversely affected if the student volunteers all departed for any length of time." Griffin is the MVAA's student liaison, and therefore sits on its membership committee, along with six other committee members from the local community. Students interested in joining the rescue team must submit applications and references to the committee, and interview for a position. According to Griffin, more than 10 students apply each year for one or two vacancies. With a unanimous decision in their favor, students are accepted on the squad for a 90-day probationary period, during which they must successfully complete the MVAA's own training program. Prospective members then go through a reexamination process with the committee. With the committee's recommendation, the entire squad then votes on a final decision for full membership.
"The fun and intense experiences we share are unlike those that other groups of college kids have," said Motley, a biochemistry major who has received a Marshall Scholarship and a Goldwater Scholarship, and has also been named to USA Today's 2006 All-USA Academic Team. "Being a rescue volunteer provides me with countless, excellent experiences. While I serve the MVAA, the MVAA is doing a great service to me."
"There is a huge adrenaline rush when a call comes in," said Wolkowski, an American civilization major who also aspires to earn both a pilot's license and a captain's license for sailing. "Your heart starts racing and the call is the only thing you focus on."
The students find their volunteer work rewarding. It gives them the opportunity to meaningfully contribute to the welfare of their extended community. Their MVAA service augments their educational experience at college by offering another viewpoint, helping them form important off-campus relationships.
"Because it's a town service, I've come to know a lot of the residents of the town and the surrounding communities really well. Great friendships have come out of it," said Wolkowski. "I'll have these friends in town forever."
Baker Lyon, a two-year veteran on the rescue team who drives the ambulance, agrees: "The people from town give me a different perspective on my education."