Ann M. Veneman, executive director of UNICEF, to deliver Middlebury College commencement address May 28
Robin E. Bell, Dr. Richard M. Hodes, Sen. James M. Jeffords, Alec S. Webb and Lihua Yu to receive honorary degrees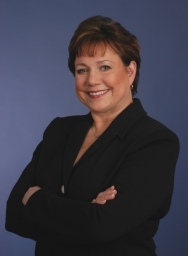 © UNICEF/HQ05-0653/Toutounji
Ann M. Veneman, executive director of UNICEF and former secretary of agriculture, will deliver the commencement address on Sunday, May 28, at the Middlebury College graduation ceremony, which will begin at 10 a.m. Veneman will also receive an honorary Doctor of Humane Letters degree. Robin E. Bell, Dr. Richard M. Hodes, U.S. Sen. James M. Jeffords of Vermont, Alec S. Webb and Lihua Yu will receive honorary degrees as well.
In May 2005, Veneman became executive director of UNICEF, the children's agency of the United Nations, which operates in 157 developing countries. The world's largest provider of vaccines for poor countries, UNICEF works to advance the U.N.'s Millennium Development Goals by supporting child health and nutrition, education for all boys and girls, access to clean water and sanitation, and the protection of children from violence, exploitation and AIDS. At UNICEF, which is celebrating its 60th anniversary this year, Veneman administers a staff of 10,000 and an annual budget of more than $2 billion.
Since her arrival at UNICEF, Veneman has traveled extensively to view firsthand the humanitarian relief work of her agency. As of mid-February this year, after just 10 months as the organization's executive director, she had already visited 22 countries on three continents. Her first field visit took place in May 2005 when she toured three southern African countries ? South Africa, Swaziland and Malawi ? where, according to UNICEF, the number of children affected by AIDS is the highest in the world. Veneman is the first UNICEF executive director to visit Swaziland.
Veneman and her agency faced a number of natural disasters in 2005. In June 2005, six months after the tsunami disaster, she traveled to Sri Lanka and met with children at one of many
schools rebuilt with UNICEF support. A major earthquake in Pakistan on Oct. 8 led to her visit there later that month as UNICEF worked to provide food, shelter and adequate health care to victims.
Prior to joining UNICEF, from 2001 to 2004, Veneman served as the 27th secretary of the Department of Agriculture ? the first woman to hold this position. During her tenure at the department, she directed international programs that included the $300 million Global Food for Education Program, which reached 4,000 schools and saw enrollment rise among both boys and girls by nearly 12 percent. Veneman, who grew up on a family peach farm in Modesto, Calif., also worked to eliminate trade barriers and expand opportunities for American farmers through new export markets.
From 1991 to 1993, Veneman was the Agriculture Department's deputy secretary, the department's second highest position. She previously served in various positions in the Agriculture Department and in state government, and as a lawyer at several private law firms.  She has been awarded a number of honorary degrees and numerous awards.
Robin E. Bell, who will receive an honorary Doctor of Science degree, is a member of the class of 1980 at Middlebury College, where she graduated magna cum laude with a degree in geology. Bell is the director of the Center for Rivers and Estuaries, an affiliate of the Earth Institute at Columbia University, where she is also director of the ADVANCE program, designed to increase the recruitment, retention and advancement of women scientists and engineers at Columbia.  She is a Doherty senior research scientist at the Lamont-Doherty Earth Observatory, which is also affiliated with the Earth Institute. Bell's areas of research include the Hudson River and Antarctica, to which she has led seven major expeditions. She is the chair of the National Academy of the Sciences Polar Research Board and the former co-chair of the International Council for Science International Polar Year Planning Committee. Bell earned her doctorate in marine geophysics from Columbia in 1989.
Since 1990, Dr. Richard M. Hodes, who will also receive an honorary Doctor of Science degree, has served as medical director in Addis Ababa, Ethiopia, for the New York-based American Jewish Joint Distribution Committee, a relief and rescue operation. A 1975 graduate of Middlebury College, he has helped oversee the health of all Ethiopian immigrants to Israel and also worked with refugees and displaced people in Sudan, Rwanda, Tanzania, Albania, Turkey, Somalia and elsewhere. Hodes supervises two clinics and treats patients, most of whom are severely or terminally ill, at Mother Teresa's Mission for Sick and Dying Destitutes in Addis Ababa, and is the organizer of a project to send Ethiopian children abroad for specialized surgery.  In 1994-1995, he was in charge of the health of 50,000 Rwandan refugees in Kibumba Refugee Camp outside Goma, Zaire. At any given time, Hodes has a varying number ? sometimes a dozen or more ? of Ethiopian children and young adults of all ages living with him, several of whom he has formally adopted.  He has an academic appointment at the Center for Medical Humanities and Ethics at the University of Texas Health Science Center at San Antonio.
U.S. Sen. James M. Jeffords of Vermont will receive an honorary Doctor of Laws degree.  Jeffords, who was born in Rutland, has been a member of the Senate since 1989, after having served in the House of Representatives from 1975 through 1988. Throughout his tenure in Congress, he has championed legislation to strengthen the nation's education system and increase opportunities for people with disabilities. Jeffords has also been a leading advocate for environmental protection, including the 1990 Clean Air Act. During his career, he has consistently fought for financial support of the National Endowment for the Arts and the National Endowment for the Humanities. Jeffords has received many prestigious awards, including Legislator of the Year by Parenting magazine in 1999, and the John Muir Award, the Sierra Club's top honor, in 2002. In 2001, Jeffords left the Republican Party and became an independent. He is the author of "My Declaration of Independence" (Simon and Schuster, 2001) and "An Independent Man: Adventures of a Public Servant" (Simon and Schuster, 2003). 
Lihua Yu will receive an honorary Doctor of Letters degree. Yu has been characterized as being among the most influential Chinese-born women writers since the Second World War, and she is a leading spokesperson for Chinese intellectuals in the U.S. Born in China, she was educated in Taiwan and the U.S., where she has lived since 1956.  Yu is the author of 25 volumes that include novels, which have been translated into many languages; collections of short stories; and prose. She has also written several volumes of critical works and translation. From 1968 to 1993, Yu was a faculty member in the East Asian studies department at the State University of New York at Albany.  Her life in America is the subject of her monthly column in the People's Daily, the national newspaper in China, and was the topic of her former commentaries aired on the Voice of America. Yu is the mother of Anna Sun, coordinator of the Middlebury College Chinese and Japanese Schools, and the grandmother of Tara Sun Vanacore, a member of the Middlebury class of 2006, who will graduate in May.
Alec Webb will receive an honorary Doctor of Science degree. In 1970, Webb began the work necessary to convert Shelburne Farms from his family's private estate to what is now a 1,400-acre working farm and forest, a nonprofit environmental education center, and a National
Historic Landmark on the shores of Lake Champlain in Shelburne, Vt. As president of Shelburne Farms since 1988, he has guided the organization in its mission to cultivate a conservation ethic by teaching students, educators and the general public about the stewardship of natural and agricultural resources, and sustainable land use. Webb has also served as a member of the Chittenden County Regional Planning Commission and on the boards of several Vermont organizations. He is currently a trustee of the Preservation Trust of Vermont and of ECHO at the Leahy Center for Lake Champlain. Vermont Governor Madeleine Kunin honored Webb in 1990 for his extraordinary contributions to Vermont, and he received the Vermont Land Trust's Richard W. Carbin Community Conservation Award in 1998.
The graduation ceremonies, which will be held outdoors regardless of the weather, will take place on the main quadrangle behind Voter Hall on College Street (Route 125) at 10 a.m. on Sunday, May 28.  More than 5,000 family and friends are expected to attend.