Relay for Life inspires community support April 28-29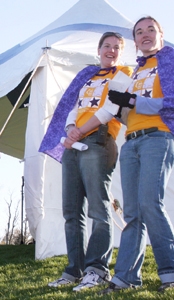 MIDDLEBURY, Vt. - Middlebury College students will host an American Cancer Society Relay for Life event on April 28-29, called "Relay for Life 2006, Saving the World from Cancer." A national fund raising effort, Relay for Life was first brought to Middlebury in 2004 by two college students whose efforts helped raise more than $80,000. This year's event has so far raised more than $97,700 for cancer research, and is expected by student organizers to glean $200,000 by the end of the relay weekend.
The all-night Relay for Life will be held from 3 p.m. on Friday to 9:30 a.m. on Saturday, on the athletics fields behind the Middlebury College Center for the Arts, on South Main Street (Route 30). Each registered relay team will organize walking shifts to guarantee a continuous, round-the-clock march. Many Middlebury College students have signed up in teams, such as the Super Noodles, the Hopeful Heroes and the men's soccer team aptly named Kicking Cancer. College faculty, staff and members of the local community also have registered with colorful team names, including the Incredible Edibles, the Advancers, the Ova Chicks and the college geology department's Rock Solid. The Middlebury Relay for Life Web page at www.acsevents.org/Relay/VTmiddlebury provides information on all 79 Middlebury teams, as well as the day-by-day totals of how much they have raised, and links for online sponsorships or other donations.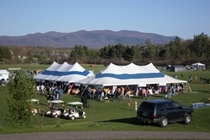 Relay for Life food tents grace the college's athletic fields.

Photo by Albert Bitici
The public is invited to participate in Relay for Life in various ways: by registering a relay team with event organizers; by making a sponsorship donation on behalf of an existing relay team; by purchasing luminaria or by providing encouragement as spectators for team walkers during the relay event. Children attending the event who are under 16 years old must be accompanied by an adult.
Luminaria - candles housed in small, white paper bags that can be purchased for a $5 relay donation to the American Cancer Society - will line the relay track in honor of cancer victims and survivors, and also will be positioned on the adjacent stadium bleachers to spell out the candle-lit word "HOPE."
Each registered team will be given a site on the surrounding field to pitch a tent for its overnight participants. To add flair to the event, student organizers encourage each team to decorate its tent in keeping with the team's theme name. Refreshment tables will be available, as well as bathroom facilities.
A barbecue dinner will take place on the Relay for Life grounds on Friday at 7 p.m. The dinner will be $5 a plate, and all are welcome to attend. On Saturday morning, a breakfast will be provided on site for registered relay team members.
Middlebury College juniors Lee Corbett and Whitney Thomas have helped organize the relay since its first year on campus in 2003, and serve this year as co-chairs for the relay event planning committee. They have lined up a series of musical performances to keep the team walkers energized throughout the relay, including the college's student a cappella group the Mamajamas at 4:30 p.m. on Friday followed by the student song and dance troupe Riddim at 5:15 p.m. At 6 p.m., the relay's official opening ceremony will include welcoming remarks by Middlebury College President Ronald D. Liebowitz, and talks by other special guests from the college and town community who will share their experiences of the struggle with cancer. The barbecue dinner will follow the opening ceremony, and at 7:30 p.m. the "Parade of Teams" around the track will take place.
Other specialties among Friday's relay events include the Luminary Ceremony and "Silent Lap" at 9 p.m.; a break dance performance at 10:15 p.m. by Middlebury College's student break dance troupe Generation Today/Vermont (GT/VT) Breakers; and a "Walk Backwards Lap" at midnight followed by a Hoola Hoop contest. Saturday's relay schedule starts in the very early morning with the "Brave Souls Laps" from 2-5 a.m., followed by "Yoga at Sunrise" and, at 8 a.m., an actual baton-passing relay will take place with all team members participating. Additional relay highlights will include a drawing for such items as season's tickets for Middlebury College hockey, day passes for the Middlebury College Snow Bowl and the Ralph Myhre Golf Course, a home-made quilt, home-made jewelry, a chocolate flower bouquet and other items.
"Along with fundraising, the goal of Relay for Life is to provide a supportive environment and a healing service for anyone touched by cancer," said Corbett. "The relay gives us the opportunity to remember those who have lost the battle against cancer, give hope to those still fighting and honor those who have survived."
"It's a time for the whole community to get together in a fun way for a common cause," added Thomas. "It's a great chance to strengthen the sense of community. It's also a great way to spend a Friday night."
To entertain the walkers, organizers have included some specialized laps in this year's relay. The "Crazy Hat Lap" and the "Superhero Lap" will be scheduled amid the "Wedding Lap," the "Sunglasses Lap," the "Three Legged Lap" and many others with equally challenging themes.
Middlebury junior Danielle Levine is chair of the relay's new Youth Liaison Committee, and has spearheaded an effort to interest young people in the community. "Relay for Life is the perfect opportunity for kids to feel like active and helpful members of a large community," explained Levine. At the request of Beeman Elementary School, Levine and the committee developed a six-week community service workshop series that began each day with team-building exercises and mini-lessons on various aspects of  the relay event. Other workshop activities included creating publicity posters, writing letters to legislators in support of cancer research and making greeting cards for the cancer survivors attending the relay. The workshop participants also developed an educational outreach program for skin care awareness, called the "Sun Care Patrol."  Another of Levine's youth-oriented initiatives will be "Kids Hour."  Two "Kids Hour" sessions are planned, and parents and chaperones may sign up their children for a one-hour session of supervised activities from 5 p.m.-6 p.m. on Friday, and again from 8:30 a.m. - 9:30 a.m. on Saturday.
To register a team, sponsor a team, purchase a luminaria or otherwise participate in the cancer research benefit Relay for Life, contact Lee Corbett or Whitney Thomas at 802-443-6294, or by e-mail at relayforlife@middlebury.edu. Donations may also be made online at www.acsevents.org/Relay/VTmiddlebury