Five students combine college careers with firefighting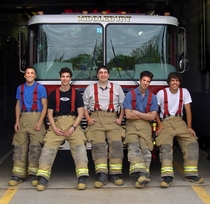 MIDDLEBURY, Vt. - Each year, several Middlebury College students make the decision to complement their academic workload with a relatively atypical extracurricular pursuit: firefighting. This year at college, five students are training and serving in the town of Middlebury on the volunteer fire department. Together, these students - seniors Andrew Barriger, of Redwood City, Morgan Prust, of Washington, D.C., and S. Welcker Taylor, of Lookout Mountain, Tenn., and sophomores Marcus Bellows, of Orono, Minn., and Shane Spinell, of Avon, Conn. - constitute more than 10 percent of the 40-member force and make a significant contribution to the department's efforts to protect people and property. "We'll get about 185 fire calls this year, so these students take their work on the force very seriously," said Middlebury Fire Chief Rick Cole. "They are fully capable volunteers and excellent firefighters."
Welcker and Andrew
To be a full-fledged firefighter on the Middlebury Fire Department (MFD), volunteers are required to take an intensive course offered by the Vermont Fire Academy. It is a year-long, all-encompassing class that meets for three hours each week - for these students, the equivalent, in time and effort, of an extra college course in their already full academic schedules.
After a year of service, students are granted full membership by department-wide vote. Barriger, Prust, Taylor, Bellows and Spinell are all certified interior firefighters and full members of the MFD. They have permits to use lights and sirens on their cars to navigate traffic from campus to the fire station when responding to a call, and they all use self-contained breathing apparatus - air tanks strapped to their backs - when fighting interior flames and smoke.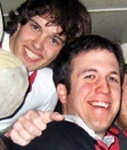 Marcus and Morgan squeeze into the fire engine.
After the initial training, the volunteers undergo additional sessions every other weekend,
mandated by the MFD to keep its crew in top form. The training sessions give the firemen a chance to practice in controlled situations what they will need to do in an actual crisis. The sessions last at least three hours and include simulations of a range of fire situations. One such session is the search and rescue, in full gear, of "Rescue Randy," a practice dummy weighing 160 pounds. "Rescue Randy" is hidden amid obstructions and entanglements in a building that is pre-treated by a safe-smoke maker to simulate structure fire conditions, and the firefighting team must crawl through the obstacle course on hands and knees, while keeping in physical contact with fire hose and rescue partner through dense smoke, to collect the dummy and find the way back to safety.
The students have call radios with them at all times during their campus lives, whether they are at class or dinner, a party or even in the shower. When alerted by the MFD dispatcher, they drop what they are doing and rush to the downtown stationhouse, where they quickly get into their protective gear and load into the various MFD vehicles that rush to the emergency site. To quickly don their gear in time to leave with the vehicles in itself is a considerable effort; heavy, bulky, fire-retardant pants with suspenders, fire coat, hood, gloves, safety boots and helmet are the protective standards, and double checking air-packs and safety alert systems before boarding is also a required part of the safety protocol. On the rare occasion that a volunteer is too late, they may not proceed on their own to the fire scene, but are expected to wait in readiness at the station with the dispatcher in case additional crew members are needed. They stay until the fire crew returns, and help wash all vehicles and put hoses and other equipment away.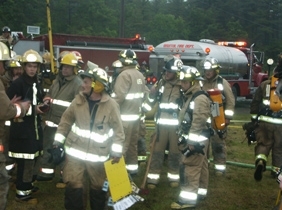 Reflective strips on their firecoats flash while the volunteers receive their instructions at a fire scene.

Photo courtesy of Welcker Taylor
Welcker Taylor, a history major, who began volunteer firefighting with his hometown's department in Lookout Mountain, Tenn., has worked with the MFD since he first enrolled at Middlebury and plans to continue firefighting in Vermont communities after his graduation this year. Taylor calculates that he receives a fire call once every two days while at Middlebury, though some days he might get none and on other days many. Each call can range from one to nine hours and may occur at any time, he explained. Regardless of the hour, the firefighters sprint to their cars, turn on the sirens and proceed directly to the station. 
Why do the students do it? They have a remarkable drive to help others. They also recognize that their experiences as firefighters are personally beneficial. Marcus Bellows, who completed the training course last year and was accepted as a full member of the department in October 2005, is proud to take up the legacy of his grandfather, who served 35 years on the Byerfield, Mass., volunteer fire department as a pump operator and driver. "My mom and grandma were both really excited when I told them I was joining the MFD," said Bellows. "My experience with the MFD has had a real impact on my life. I can't imagine not doing it."
Firefighting is also a compelling teacher. "When fighting a fire, my mind always falls back to what I've learned throughout all my hours upon hours of training. I work with the guys in my department and trust that, if something should go wrong, they'll be there for me," said Taylor.
Morgan Prust and Andrew Barriger, who also joined the MFD in their first year at the college, explained some of the beneficial dynamics. "The first time you ever go into a burning building, it tests your limits and teaches you a lot about yourself, about teamwork, and about learning to trust other people," said Prust, a neuroscience major. "And relationships on the force are really good, both amongst students and between the students and other local volunteers. It's a very cohesive group."
"It gives an opportunity to become involved in the community in a way that few students experience. I've developed a whole different view of life," added Barriger, an economics major who hopes to keep firefighting a part of his life, wherever his career takes him.
Shane Spinell, an environmental economics major, earned firefighter certification in his hometown of Avon, Conn., before coming to Middlebury. He also works with the town of Middlebury's volunteer ambulance squad and recently received a certificate of achievement at Middlebury College's annual Public Service Leadership Award dinner. "My experience with the department has been nothing but positive. It's been a great way to be a college student and integrate into the Middlebury community," he said. "It is important for countless reasons, but most important for me is the job that we do."