Relay for Life donations still climbing toward goal of $200,000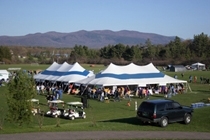 Relay for Life food tents graced the Middlebury College playing fields.
Photo by Albert Bitici

Date:  May 4, 2006
MIDDLEBURY, Vt. - Last weekend, Middlebury College students hosted a moving and highly successful overnight fundraiser for the American Cancer Society, called "Relay for Life, Saving the World from Cancer." A national effort, Relay for Life was first brought to Middlebury in 2004 by two college students whose initiative helped raise more than $80,000. This year's student organizers confirmed today that the April event has so far raised more than $187,000 for cancer research, and additional donations will continue to be accepted toward the students' $200,000 goal.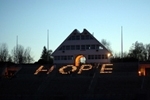 Candles were lit during the Luminaria Ceremony to spell the word HOPE on the stadium bleachers.
Photo by Albert Bitici
The all-night Relay for Life was held from 3 p.m. on Friday, April 28, to 9:30 a.m. the following Saturday on the Middlebury College athletics fields. Relay teams walked in shifts for a continuous, round-the-clock march in memory of cancer victims, and in honor of cancer survivors and those who are working to overcome the disease. Luminaria - candles housed in small, white paper bags that were purchased by event supporters for a $5 relay donation to the American Cancer Society - were lit during a special ceremony, and lined the relay track. The luminaria also were positioned on the adjacent stadium bleachers to glow throughout the night with the candle-lit word "HOPE."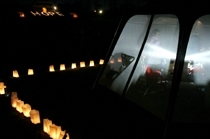 A tent glowed from within while the word HOPE shone through the night.
Photo by Albert Bitici
During the relay event, each registered team had a site on the surrounding field to pitch a tent to house its overnight participants. To add flair to the event, student organizers encouraged each team to decorate its tent in keeping with the team's theme name. The relay's official opening ceremony included welcoming remarks by Middlebury College President Ronald D. Liebowitz and Vermont Gov. James Douglas. Other special guests from the college and town community shared their experiences of the struggle with cancer, and the "Parade of Teams" marched around the track. A series of musical performances kept the team walkers energized throughout the relay, as did a variety of scheduled novelty laps such as the "Three-legged Lap." Additional relay highlights

2006 relay organizers Whitney and Lee donned relay capes and pagers for the event.
Photo by Albert Bitici
included a drawing for such items as season's tickets for Middlebury College hockey, day passes for the Middlebury College Snow Bowl and the Ralph Myhre Golf Course, a home-made quilt, home-made jewelry, and a chocolate flower bouquet.
With her eye on the $200,000 goal, senior Lee Corbett expects the Middlebury relay's Web page to bring in additional contributions online for the American Cancer Society.
For more information about the "Relay for Life, Saving the World from Cancer" event at Middlebury College, or to make a donation, contact student organizers Lee Corbett or Whitney Thomas at 802-443-6294, 94 by e-mail at
relayforlife@middlebury.edu. Links for online donations are also provided on the Web page at acsevents.org/Relay/VTmiddlebury