Middlebury College opens Max Kade Center for German Studies Aug. 15
MIDDLEBURY, Vt. ? On Aug. 15, Middlebury College celebrated the opening of the Max Kade Center for German Studies, located in the newly renovated Deanery on College Street. A grant from the Max Kade Foundation supported the reconstruction and Lya Pfeifer, president of the Max Kade Foundation, was present for the event. Middlebury College President Ronald D. Liebowitz, Dean of the Language Schools and Schools Abroad Michael Geisler, Director of the German School Jochen Richter, and Associate Professor of German and Department Chair Roman Graf provided remarks. Pfeifer spoke briefly to express her appreciation.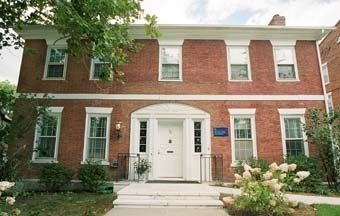 The Max Kade Center for German Studies
The Max Kade Center for German Studies will provide residential and activity facilities for the college's German Department and International Studies Program during the academic year and for the German School during the summer. The space will accommodate a variety of academic and cultural activities, and the upper floors will serve as a residence for German studies students and a teaching assistant, who will be responsible for providing academic support and helping to facilitate cultural and social activities within the center and on campus.
Since 1944, the Max Kade Foundation has promoted the study of both German and German-American history, and has worked to increase understanding between the people of Germany and the United States. The foundation has funded diverse educational initiatives in both Germany and America.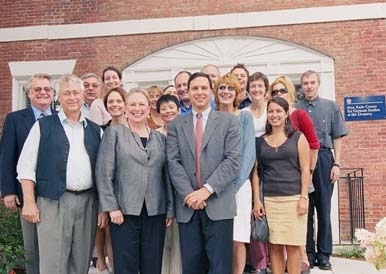 L to R, front row: Jochen Richter, Lya Pfeifer, President Liebowitz and (second row center) Clara Yu, president of Monterey Institute of International Studies, pose with faculty, staff and students of the Middlebury College German School following the dedication of the Max Kade Center for German Studies
Middlebury College has enjoyed a longstanding partnership with the Max Kade Foundation. Since 1969 the college has received almost $1.5 million in support of professorships in the German School, scholarship assistance, cultural programs, technical equipment, and library needs. In recent years, the foundation has been the major contributor to funding for the German School's German for Singers and Vocal Coaches, a celebrated program for professional and pre-professionals singers and accompanists that integrates the study of German language, literature and culture with the study and performance of German vocal music.