National Geographic contributing photographer Joel Sartore to discuss Alaska's oil and wildlife issues Oct. 12
MIDDLEBURY, Vt. ? On Thursday, Oct. 12, from 7-9 p.m., National Geographic magazine contributing photographer Joel Sartore will deliver a lecture titled "Oil versus Wilderness: Selling Alaska's North Slope." The event will take place in the Robert A. Jones '59 House Conference Room, located on Hillcrest Road off College Street (Route 125), and is free and open to the public.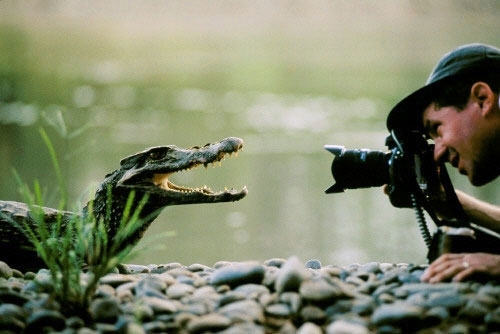 Joel Sartore and friend
The oil-versus-wildlife debate is particularly relevant on Alaska's North Slope, a rich swath of tundra that is home to an abundance of wildlife and 48 billion barrels of oil. The North Slope is the largest intact wilderness in the United States, offering grand vistas and uninterrupted views of native wildlife, such as caribou. Oil companies drilling in Prudhoe Bay plan to expand their operations throughout the region. In his talk, Sartore will discuss what he has learned about this fragile wilderness and the importance of saving these increasingly rare and beautiful areas.
Sartore began his career with the National Geographic Society in 1991. Since then he has completed 17 stories for National Geographic magazine, all of them focusing on natural history and wildlife. He has been recognized by the National Press Photographers Association, the Inland Daily Press Association, and the Pictures of the Year International contest. He gives workshops and speaks to a wide variety of groups across the country.
In addition to appearing in National Geographic, Sartore's photographs have also appeared in Audubon, Life, Newsweek, Sports Illustrated, and Time magazines, and in numerous books. He has been featured on national broadcast programs, including National Geographic's "Explorer," the "NBC Nightly News," NPR's "Weekend Edition" and "CBS This Morning."
Sartore was born in Ponca City, Okla., and raised in Ralston, Neb. He graduated from the University of Nebraska in 1985 with a degree in journalism. He worked for the Wichita Eagle newspaper as a photographer and then as photo director before beginning photographic assignments with National Geographic.
The lecture is sponsored by the Middlebury College Academic Enrichment Fund and Environmental Studies Program, and the Christian A. Johnson Economic Enrichment Fund. For more information, contact Janine Podraza, events coordinator for the economics department, at jpodraza@middlebury.edu