Middlebury College announces establishment of the Justice William H. Rehnquist Professorship
MIDDLEBURY, Vt. ? Middlebury College President Ronald D. Liebowitz announced today the establishment of the Justice William H. Rehnquist Professorship of American History and Culture. According to Liebowitz, an anonymous donor provided the funds to honor the legacy of the nation's 16th chief justice, William H. Rehnquist. The professorship is devoted to furthering the study of American history, literature and culture, and can be held by a faculty member in any department or program whose scholarship and teaching focus on the United States.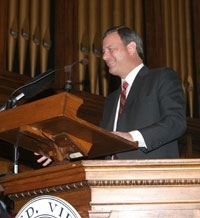 Chief Justice Roberts at the podium in Mead Chapel.
- Trent Campbell photo
President Liebowitz made the announcement during an event in Mead Chapel, at which Chief Justice of the United States John G. Roberts Jr. delivered the annual John Hamilton Fulton Lecture in the Liberal Arts. [See avideo of the lecture.]
The first holder of the Rehnquist chair is Middlebury College Professor of History James R. Ralph Jr., a teacher and scholar of American history whose research focuses on the civil rights movement. A 1982 Middlebury College graduate and class salutatorian who received his doctorate from Harvard University in 1990, Ralph has been published widely and received numerous honors and awards, including a Fulbright fellowship.
Said President Liebowitz, "Jim Ralph's book, 'Northern Protest: Martin Luther King Jr., Chicago, and the Civil Rights Movement,' published in 1993, made an important contribution to our understanding of a critical period in the nation's history. I can think of no more fitting holder of the inaugural Rehnquist professorship."
Rehnquist was nominated as chief justice of the United States by President Reagan and sworn in on Sept. 26, 1986. Prior to 1986, he served as associate justice of the Supreme Court, a position he assumed in 1972 after being appointed by President Nixon. Before this appointment, Rehnquist was an assistant attorney general in the Office of Legal Counsel. Earlier in his career, he practiced private law in Phoenix, Ariz., focusing on civil litigation.
 
"This gift is a wonderful tribute to our father, who not only greatly enjoyed his visits to Middlebury College but also was a passionate student of American history," said Nancy Spears, one of Rehnquist's three children and the wife of Middlebury College Dean of the College Tim Spears.
The evening speech by Roberts was just part of a daylong visit to the campus by the chief justice. Earlier, he had lunch with a group of about 40 students, along with faculty and staff, at the Kirk Alumni Center, after which he spent an hour and a half answering students' questions. He later met with members of the Vermont judiciary, and then had dinner with another group of students before heading to Mead Chapel for his speech.
His address - attended by about 1,200 people in Mead Chapel and at satellite viewing areas in Sunderland Hall and McCardell Bicentennial Hall - was largely a tribute to Rehnquist, his predecessor as chief justice, for whom Roberts served as a clerk from 1980 to 1981. Roberts said he was "delighted to be present for the announcement" of the professorship honoring Rehnquist, and that it was particularly appropriate that the Rehnquist chair was being established in American history, and in Vermont. Rehnquist, Roberts said, had a special love of Vermont, having spent many summers at his home in Greensboro, "and he was an historian himself," with a passion for the study of American history and culture. He also noted that Rehnquist had made his share of history, being the 100th person named as a Supreme Court justice, and the 16th chief justice. Rehnquist served 33 years on the court, longer than all but four other justices.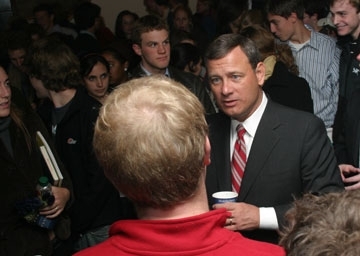 Following his lecture in Mead, Chief Justice Roberts talked with students in McCullough. 
- Trent Campbell photo
Roberts called Rehnquist a man unaffected by the pretense that afflicts so many in Washington. Rehnquist would often travel almost incognito, with a trench coat, baseball cap and sunglasses. Roberts said Rehnquist was fond of telling the story about one trip where he was expecting to be met by a law student at the airport. On his arrival, Rehnquist picked out the student, walked up and began chatting. The student suggested he didn't have time to talk, because he was there to meet the chief justice. "What a tremendous coincidence," Rehnquist said. "I just happen to be the chief justice."
Roberts said the establishment of the Rehnquist professorship came at a time when there is a need for more emphasis on the subject of American history, and particularly on how that history has been affected by "the rule of law implemented by an independent judiciary," something that sets America apart from much of the rest of the world.
He said President Ronald Reagan, whom Roberts served as associate counsel from 1982 to 1986, liked to point out that the Soviet constitution was an eloquent document, but that without an independent judiciary to rein in the excesses of both government and the governed, the words were worthless.
One of the things for which Rehnquist will be remembered, Roberts said, was the effect he had on the scope of legal argument. Roberts said that when Rehnquist joined the court, the arguments made to the court, and even the court's deliberations, tended to range widely, and be quite free wheeling. Today, Roberts said, there is a greater emphasis on the content of the law, and that alone makes the court a less political entity.
During Rehnquist's tenure, Roberts said, when lawyers appeared before the court and began talking about what Congress had meant when writing one law or another, you could be sure that Rehnquist would remind them that "what was important was not what Congress meant, but what Congress said."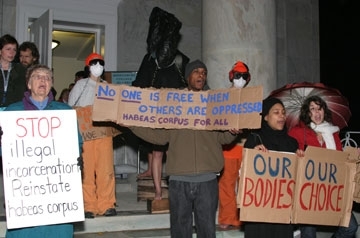 Students and others, about 20 people in all, were on hand to make sure the chief justice knew their views on Roe v. Wade, the treatment of detainees at Guantanamo Bay and Abu Ghraib, and other issues.
- Trent Campbell photo