National Public Radio correspondent David Welna to speak about congressional reporting Oct. 25
MIDDLEBURY, Vt. ? David Welna, a congressional correspondent for National Public Radio (NPR), will speak at Middlebury College on Wednesday, Oct. 25, at 4:30 p.m. His talk, titled "Crashing One-Party Rule: Inside the Bush Administration Congress," is part of the college's "Meet the Press" series and will take place in Room 216 of McCardell Bicentennial Hall. The event is free and open to the public.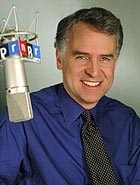 David Welna
Welna began his career at NPR in 1982, reporting from overseas in South and Central America, and in 1995 he became the chief of NPR's Mexico bureau. During that time, he covered the 1992 United Nations Earth Summit in Rio de Janeiro, the mass exodus of Cubans who fled the island on rafts in 1994, the Zapatista uprising in Chiapas, Mexico, and the United States' intervention in Haiti and restoration to presidential power of Jean Bertrand Aristide.
He returned to the United States in 1998 to join the Chicago bureau, where he reported extensively on changes in Midwestern agriculture, the effects of foreign conflicts and economic crises on the heartland, and regional efforts to improve public education. He also drew on his experience in Latin America to cover the Elian Gonzalez story, both in Miami and Cuba.
Welna became NPR's congressional correspondent on Capitol Hill during the final days of the Clinton administration. He has covered several election campaigns, as well as the post-election vote count battle in Florida.
In 1995 he received an Overseas Press Club award for his coverage of Haiti. In 1997 he was awarded a Nieman Fellowship at Harvard University, and in 2002, he was elected by his peers to a two-year term as a member of the Executive Committee of the Congressional Radio-Television Correspondents' Galleries.
Welna has also reported for the Canadian Broadcasting Corporation, The Financial Times, and The Times of London. His photography has appeared in Esquire, The New York Times, Paris Review, and The Philadelphia Inquirer.
Welna's talk is part of Middlebury College's "Meet the Press" lecture series and is co-sponsored by the Middlebury College English Department and Atwater Commons. "Meet the Press" was established in 2004 by author and Scholar in Residence in English Sue Halpern. According to Halpern, the lectures are presented under the auspices of the Middlebury College Institute on Working Journalism, a program designed to bring newsmakers - reporters, editors, critics, photojournalists, bloggers and editorialists - to the Middlebury campus.
McCardell Bicentennial Hall is located on Bicentennial Way off College Street (Route 125). For more information, contact Sue Halpern at shalpern@middlebury.edu.