Internationally celebrated organist Paul Jacobs to perform Dec. 3
MIDDLEBURY, Vt. ? Celebrated organist Paul Jacobs will visit Middlebury College on Sunday, Dec. 3, to perform on the recently refurbished and enhanced Gress-Miles organ in Mead Chapel. The concert will take place at 3 p.m. and is sponsored by the Middlebury College Performing Arts Series. A pre-performance talk by Middlebury College Organist and Professor Emeritus Emory Fanning will begin at 2:15 p.m., also in Mead Chapel.
Jacobs is chair of the organ department at New York's Juilliard School at Lincoln Center. He joined the Juilliard faculty in 2003 at age 26, making him one of the youngest faculty appointments in the school's history.
 
Jacobs began studying the piano at age six and the organ at 13. By the age of 15, he was appointed head organist of a parish of 3,500 families in his hometown of Washington, Pa. He received a full scholarship to study at the Curtis Institute of Music in Philadelphia and graduated as a double major, studying organ with John Weaver and harpsichord with Lionel Party. He subsequently received the Master of Music degree and Artist Diploma from Yale, studying organ with Thomas Murray. In 2005 he was honored with the Distinguished Alumni Award from the Yale School of Music, along with violinist Syoko Aki and composer Daniel Asia.
He came to national attention as a concert organist in 2000 when he twice performed the complete organ works of J.S. Bach in 14 consecutive evenings, in both New York City and Philadelphia. Later he trumped that achievement by performing the complete works again in a spectacular 18-hour non-stop marathon in Pittsburgh. In 2002 he performed the complete organ works of Messiaen in a series of nine-hour one-day marathons in six American cities, including Chicago; Washington, D.C.; Atlanta; San Francisco; Minneapolis; and Seattle. He has performed throughout the United States as well as in South America, Asia, Australia, Canada and Europe.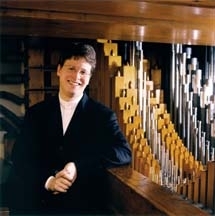 Paul Jacobs
A reviewer at the Chicago Tribune called him "one of the most supremely gifted young organists of his generation," while The Wall Street Journal praised his "charismatic showmanship and unflagging exuberance."
Jacobs' prominence at a relatively early age can be attributed to his natural ability to communicate with his audiences. The New York Times has noted that his performances show "an exceptional musical experience … supple technique and vivid interpretive imagination."
He has been featured on Public Radio International's "Pipedreams," Bavarian Radio, Brazilian Arts Television, ABC's "World News Tonight," National Public Radio's "Morning Edition" and Minnesota Public Radio. He has captured first prize in numerous competitions, including the 1999 Fort Wayne National Organ Competition, and the 1998 Albert Schweitzer National Organ Competition. He is the first organist ever to be honored with the Harvard Musical Association's prestigious Arthur W. Foote Award. At Yale, he was awarded numerous honors including the Dean's Prize and the Faculty Prize of the Institute of Sacred Music. His debut recording was released in 2004 on the JAV label and features an unedited release of an all-Bach program.
Mead Chapel is located on Hepburn Road off College Street (Route 125). Tickets are $15 for general admission and $12 for seniors at the Middlebury College Box Office at 802-443-6433. Online tickets and information are available at www.middlebury.edu/arts.