British pianist Paul Lewis continues his landmark series of Beethoven concerts at Middlebury College Jan. 26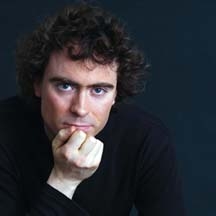 MIDDLEBURY, Vt. - After three beautifully received concerts last season, and one this past fall, British pianist Paul Lewis will again visit the Middlebury College Center for the Arts as he continues his ongoing endeavor to perform the complete cycle of Beethoven's 32 piano sonatas at the college.
This performance, the second of four recitals he will play here this year, is the only American tour stop for this virtuosic journey. The recital begins at 8 p.m., Friday, Jan. 26, in the Concert Hall at the Center for the Arts, located on South Main Street (Route 30), and will feature Sonata no. 14, otherwise known as the "Moonlight Sonata," as well as Sonata nos. 4, 13 and 22. His remaining concerts this year are scheduled for March 9 and May 11.
Lewis, one of the most sought-after classical artists of his generation, is currently immersed in the Beethoven project. In 2007, the Beethoven sonatas will be the focus of his concerts scheduled for venues throughout the United Kingdom, Australia and Europe. Lewis is in the process of recording the complete Beethoven cycle for the classical music label Harmonia Mundi, the first segment of which was released on Nov. 8, 2005.
The intense focus is not new to Lewis, who produced a similar effort several years ago with the Schubert piano sonata series. In 2003, his Schubert work won him both the South Bank Show Classical Music Award and the Royal Philharmonic Society's Instrumentalist of the Year Award. His Schubert sonata recordings on the Harmonia Mundi label received great acclaim, with the first release winning the prestigious Diapason d'Or Choc de L'Année 2002 award in France.
Lewis attended the Chetham School of Music and the Guildhall School of Music and Drama, studying with distinguished pianists Ryszard Bakst and Joan Havill. He later received regular coaching from Alfred Brendel. By 1999, Lewis was featured in BBC's inaugural "New Generation Artists" program. From 2000-2002, he was a professor of piano at London's Royal Academy of Music. He and the Leopold String Trio were selected by Wigmore Hall in 2001 for the prestigious European Concert Halls Organization's "Rising Stars" program, an honor that led to more debut recitals in New York, Vienna, Amsterdam and Brussels.
Lewis has appeared with a host of classical music artists, including Yo-Yo Ma, Ernst Kovacic, Katherine Gowers and Adrian Brendel. He has performed concertos with many leading orchestras and with conductors such as Gerard Schwarz, Vassily Sinaisky and Mark Elder.
A reviewer for The Observer called Lewis "the finest British pianist in decades."
Middlebury College Performing Arts Series Director Paul Nelson and his wife first heard Lewis play at London's Wigmore Hall several years ago. Nelson was inspired and the current Beethoven recital series resulted. "The prospect of hearing him play all of Beethoven's sonatas at Middlebury was irresistible," Nelson said.
Lewis' recitals are sponsored by the Middlebury College Performing Arts Series. Reserved seating tickets for the performance are $15 for general admission and $12 for seniors. A pre-performance dinner begins at 6:30 p.m. at Rehearsals Cafe in the Center for the Arts. Reservations are required. For tickets or dinner reservations, call the Middlebury College Box Office at 802-443-6433. Online tickets and information are available at www.middlebury.edu/arts.